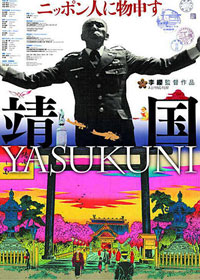 Tokyo-based Chinese filmmaker Li Ying burst onto the international film stage last year with his documentary about the controversy surrounding the Yasukuni Shrine. His film, simply called Yasukuni, received rave reviews and accolades from many international film festivals, including Busan 2007 (South Korea) and Sundance 2008 (United States). It will make its European debut at the 58th Berlin Film Festival (February 7 to 17).
"What I am hoping to do with this film is look at history, and help people rethink the war legacy in Japan that seemed to be ignored for a long time," Li told Beijing Review.
Yasukuni Shrine was founded in 1869. It was built to commemorate and worship those soldiers who have died in Japan's conflicts between 1853 and 1945, according to the shrine's website. A massive political controversy surrounds the site due to the addition of the names of fourteen Class A war criminals in the Second World War, that have been enshrined since 1978. With former Japanese Prime Minister Junichiro Koizumi visiting the shrine since 2001, it has become a worldwide topic and drawn strong protests from various Asian countries, including China and South Korea. The site has been widely regarded as a symbol of Japanese militarism and ultra-nationalism, and many are taking such actions as a sign that Japan's political leaders are not looking critically enough at their country's history.
Completed in 2007 - a decade in the making - the film sheds light, impartially, on what actually still goes on, in and outside the vicinity of the shrine. It begins by focusing on 90-year-old Naoji Kariya, the only surviving swordsmith from that era who helped forge 8,100 steel-bladed weapons, known as yasukunitou, wrought within the shrine's premises, and then shipped to the front until 1945. It traces the history of those weapons, what the blades were used for - including the Nanjing Massacre of 1937, and a widely reported beheading competition carried out by two officers who were later executed for war crimes.
Worshippers at the shrine believe the blades house the souls of the dead (approximately 2.5 million) who are memorialized there. From this premise, the film branches out to present multilayered perspectives on the subject from predominantly Japanese voices.
"The swords and their history are a very powerful thing in Japanese society," said Li. "It can be hard to understand the emotions the shrine brings up unless you actually go there."
The entire documentary is punctuated by excerpts of Kariya making his last blade in 2006, eliciting respect for an artisan's single-minded dedication to his craft. With the absence of voiceovers, personal judgment gives way to candid airing of opinions from different people. It also looks at the controversial visit by Koizumi, and follows the alliance of Koreans, Taiwan aboriginals, Okinawan families and a Buddhist priest petitioning for removal of their ancestors' names from the shrine.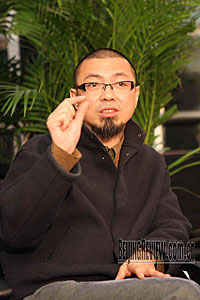 A former documentary director for the state-run China Central Television, 45-year-old Li moved to Japan in 1989 and co-founded Dragon Films Inc. to produce TV program and films since 1993.
"In 1997, the 60th anniversary of the Nanjing Massacre, I was watching a Japanese-produced documentary about the massacre at a seminar in Japan, and when the scene arrived where soldiers raise the Japanese flag over the city, I was totally shocked to hear their [Japanese audience] applause," recalled Li.
The incident drove him to produce a documentary about the Yasukuni Shrine, which, as Li says, is "a kind of war legacy."
"Different nations have different memories. I wanted to concentrate on people's memories of this big historical stage, and wanted to explore the reasons behind the huge discrepancy," noted Li.
One can only imagine the difficulties that Li and his crew, including two Japanese, encountered while shooting the film, since he is the first to cover this controversial subject.
"Our documentary was made a target of attack during shooting. Right-wingers abused us; sometimes they grabbed our camera and deleted our tapes," said Li. "Even some left-wingers were not willing to give interviews, for inexplicable reasons."