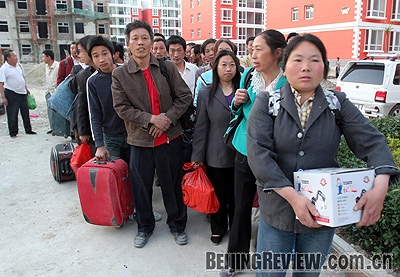 KEEP SHRINKING: The southern part of China is confronted with shortages of skilled migrant workers, while many choose to stay in the countryside due to the government's endeavor to improve rural areas (WEI XINGZHI)
The long-held belief of an inexhaustible surplus of labor in rural areas of China is fading fast. Amid worries over its aging population, China is confronted with serious challenges to sustain its labor supply so as to shore up its growing economy. How to further transfer the remaining surplus labor in rural areas into cities and how to improve the quality of Chinese laborers are questions the country faces. The Guangming Daily, a mainstream newspaper based in Beijing, conducted an interview with Cai Fang, an economist and Director of the Institute of Population and Labor Economics under the Chinese Academy of Social Sciences, to delve into China's labor dilemma. Cai gave his opinions in the following excerpts:
Guangming Daily: An abundant rural labor force has always been a competitive edge for the country. But your report showed the "limitless supply" era for labor has long passed. Why is that?
Cai Fang: Few people noticed the shrinking number of surplus rural labor force. People tend to believe that one third of rural labor is a surplus, about 150 to 200 million. However, our research showed the absolute number of surplus rural labor is only 52.12 million, far fewer than what people might expect.
The population shifts, which would need over 100 years for other countries, only took two to three decades in China. It is a result of robust economic growth and social development. The one-child policy has also contributed to the fast pace of population transformation.
But this kind of population bonus will soon vanish. The population base of China is huge, while the growth speed is decreasing year on year and will become a negative growth rate after 2020.
In the past, we overestimated the actual labor force in rural areas. In fact, a big proportion, which we normally count as part of surplus rural labor, has already shifted into township enterprises or into the cities. Therefore, the number of rural labor force has its limits.
What kind of impact will the shrinking labor force have on the Chinese economy and society?
Some traditional and old-fashioned thoughts and ideas must be changed. In the past, we seldom increased rural work efficiency through advancing farming technology, as the rural population was so huge and the land was so little. However, in the new era, we must rely on advanced technology to improve productivity so as to maintain a considerable amount of transferable surplus rural labor. In developed countries, the manpower accounts for less than 5 percent of all productivity. It is 2 percent in the Great Britain and 6 percent in Japan. But in China, manpower takes up 20-30 percent. As a result, if the work efficiency can be further improved, the rural labor force will be able to transfer to the cities.
Therefore, our conclusion does not say that there is no labor that can transfer from the villages, but that the surplus labor can no longer be content with the low wages as they receive today. If we want to retain fast urbanization, we must improve the welfare for migrant workers from rural areas. Otherwise, they will be more willing to stay in their hometown. A more favorable welfare system in urban areas can attract those people.
At present, the labor market suffers from frequent shortages, rising cost of salaries and the lack of skilled workers. Management-worker relations are turning for the better to the side of employees.
How long this labor competitive edge can be sustained depends on government policies. In most cases, a country gets rich before it grows old, hence giving its people more time to develop capital- and technology-intensive industries. But here, we grow old before we get rich. The aging population will be a big challenge for economic development, and is something we must pay great attention to.
Talking about the aging population, will China lose the labor competitive edge soon?
The outlook is not that pessimistic. I believe even after 2015, China will still be able to maintain a large labor force due to the huge population base. In addition, the labor quality is relatively good compared with other developing countries. Economists have found that a high school education for a person will pose a direct impact on his/her economic output. Most of the migrant workers between 20-30 in China have received junior middle school education, and some are senior middle school graduates. As a result, the competitive edge of Chinese labor is not only in quantity, but also in quality.
In the future, the rising cost of labor will be a major trend. We should be more focused on the labor quality given the fact of decreasing quantity. It is time to readjust the nation's labor strategy: we can have sufficient or insufficient labor, but we must have high-quality workers. An optimized labor force will exert long-lasting, positive influence on socioeconomic development.