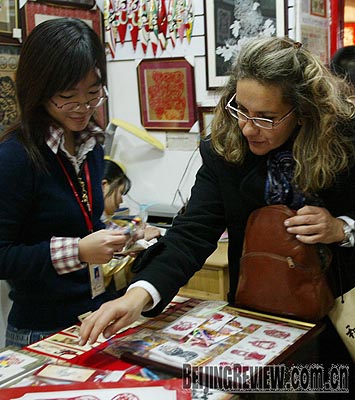 ARTY FOLK: Tourists visit the All Artisans Shop, a haven of Chinese folk art
Among more than 2,000 museums in Beijing, All Artisans Shop has received some of the highest praise, with Eric Duluc, Chairman of International Tourism Association, calling it the "Louvre of China."
Located to the east of the Temple of Heaven, All Artisans Shop catches the eye with its gray bricks, red doors and black eaves, creating the heavy atmosphere of China's ancient culture.
Here gather more than 100 folk art masters who have set up workshops to both make art and cultivate students, creating in the process one of China's largest folk art bases. It is said that each master is required to teach at least one student in order to hand down his or her skills.
From the beginning of the Yuan Dynasty (1279-1368), specialized workshops were set up to provide art for China's royal family. As the nation's ancient capital, Beijing was a gathering place for artisans from all over the country.
Now, some of Beijing's folk art is on the brink of disappearance and it is difficult for masters to find a successor willing to learn their skills. A number of companies in the folk art business have gone bankrupt. The Beijing Municipal Government and some folk associations have taken steps to popularize folk art with a number of measures, including the establishment of the All Artisans Shop.
In the shop, visitors can see demonstrations of the skills needed for making glass and baccaro teapots, Beijing embroidery and paper cuttings.
With authorization from their trade association, artisans in the shop can make money from selling goods, which have proved popular with tourists.
As the Olympics approach, an increasing amount of their art has focused on the event, including paper cuts of Olympics figures and the mascots.
Zhao Caixuan is a fifth-generation hand-torn artist. He has begun to make hand-torn portraits of famous Olympic figures, including Jacques Rogge, President of the International Olympic Committee.
You Dongtao is the son of You Guocheng, a master of dough sculpture, which has a history of more than 3,000 years. He has made a series of fuwa dough sculptures using walnut shells, each less than 3 cm in diameter. The sculptures are vivid, and even the eyes and teeth of the fuwa can be clearly seen.
"These art pieces can only be exhibited in the workrooms of the All Artisans Shop in order to protect the intellectual property rights of the Olympics," said You.
Zhang Yujun, also known as "hutong Zhang," is the youngest master in the All Artisans Shop. He is a skilled maker of clay figurines and the old street scenes of Beijing. His masterpiece is A Street of Old Beijing, which is 100 meters long and comprises of more than 700 figures and over 200 old stores. It shows a street scene from Beijing in the 1930s.