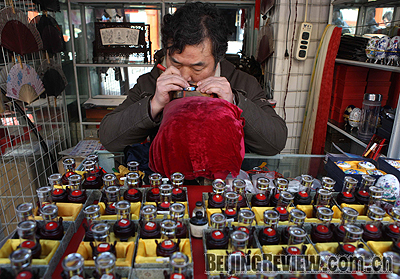 CLOSE UP: A craftsman in Liulichang works carefully on a micro-sculpture
Liulichang is a colorful street in Beijing that also has a colorful name, literally.
Located near Hepingmen, in the Chongwen District of Beijing, Liulichang translates into "factory for making colored glass." The name derives from the Yuan Dynasty (1279-1368), when the government set up a factory here for making colored glass, the scale of which was enlarged in the Ming Dynasty (1368-1644), making it one of the five largest factories in the city. After the neighborhood was incorporated into the urban area, the factory was moved to the suburbs, but the name Liulichang remained.
In the Qing Dynasty (1644-1911), when people from across China came to Beijing for the imperial civil examinations, they mainly lived in Liulichang, and their presence transformed the area into a gathering place for book and stationery shops. Gradually, Liulichang developed into a book-selling center that attracted vendors from around the capital.
In 1772, Qing Dynasty scholars started to compile the Complete Library in the Four Branches of Literature at the order of Emperor Qianlong. During the compilation process, they often went to Liulichang for reading and research.
Aside from the area's bookstores, antique shops and vendors selling other cultural items have now moved in. Some more established shops, such as China Bookstore, have also opened in the neighborhood.
For many people, the most famous shop in Liulichang is Rongbaozhai, which was opened in 1894. Rongbaozhai serves as a bridge between collectors, and painters and calligraphers. It has collected many precious masterpieces from famous artists throughout China's history.
The shop has also attracted well-known artists including the painters Qi Baishi, Zhang Daqian and Wu Changshuo and the writer Lu Xun. Late Premier Zhou Enlai was also a frequent visitor.
Rongbaozhai is famous for the technique of woodblock color printing for reproducing ancient paintings. This technique, invented in China, requires very specialized skills. When reproducing a 4-meter-long masterpiece by Gu Hongzhong, painted in the Five Dynasties period (907-960), the staff of Rongbaozhai first drew 1,667 sample pictures and then carved 1,667 wooden boards. It took them eight years to reproduce more than 30 copies of the masterpiece, which can hardly be distinguished from the original.
In May 2005, the technique of woodblock color painting was listed in the first group of national intangible cultural heritage items with the approval of the State Council.