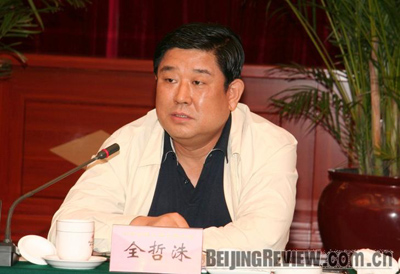 "Private companies in China will have to figure out how to realize coordinated sustainable
development in the future."--Quan Zhezhu
Beijing Review: How do you assess the development of private companies over the past three decades?
Quan Zhezhu: The development of the private sector, which was closely linked with the reform and opening-up process, is an important fruit of as well as a great impetus for the implementation of the policy.
How has China's private economy developed?
The private economy has experienced three phases of development. In the first phase from 1978 to 1992, the private economy became a supplementary component of the socialist economy. In 1992, the 14th Congress of the Communist Party of China set the goal of establishing a socialist market economy. During this phase, the number of private companies grew from zero to nearly 140,000, with their registered capital totaling 22.1 billion yuan ($3.4 billion) and the number of employees hitting 2.32 million.
During the second phase from 1992 to 2002, the private economy became an important component of the socialist market economy. The number of private companies grew 18 fold to 2.435 million in 2002. Their registered capital had totaled 2.5 trillion yuan ($357 billion) by the end of 2002. The number of their employees reached 34.1 million, or a nearly 16-fold increase, and their tax revenue hit 94.6 billion yuan ($13.5 billion), showing a 209-fold increase.
During the third phase from 2002 until now, with all economic entities of different forms of ownership equally competing with and mutually enhancing each other, the private economy entered a new phase of development. By the end of 2007, a total of 5.51 million private companies had 9.4 trillion yuan ($1.3 trillion) in registered capital. Private companies above the designated size, or those with annual sales reaching or surpassing 5 million yuan ($714,300), reaped 400 billion yuan ($57 billion) in profit in 2007, an 8-fold increase from 2002.
What were the characteristics of the development of private companies in China?
The private economy in China has exhibited a couple of new characteristics in recent years. The first is that a group of large capital- and technology-intensive private enterprises has been formed. An ACFIC survey in 2006 showed that the assets of the top 500 private companies with annual operating revenue reaching or surpassing 200 million yuan ($28.6 million) totaled 1.85 trillion yuan ($264.3 billion), a 3-fold increase from 2002. Of the top 500 companies, 28 had total assets worth more than 10 billion yuan ($1.4 billion), and 93 had assets exceeding 5 billion yuan ($714 million).
The second feature is that private companies began expanding from traditional textile, machinery, construction and transportation industries, and business and trade services to heavy, chemical and infrastructure industries, and the capital market.
The third is that private companies began to form corporations that focus on large-scale operations and anticipated regional conglomerations.
The fourth is that private companies have made further improvements in labor relations.
How have private companies contributed to China's economic growth?
The private economy has played an increasingly important role in promoting China's socioeconomic development in the past three decades. First of all, the private economy has become a major force in driving China's economic growth. At present, the private economy contributes up to 65 percent of the country's GDP, and 70-80 percent of its economic growth.
Second, the private sector has become an important source of employment, offering jobs to 80 percent of non-agricultural population nationwide.
Third, in terms of innovation, China's small and medium-sized enterprises have created 70 percent of technological innovations, 65 percent of national patents and 80 percent of new products, with more than 95 percent of them being private businesses. The private economy is also a major source of tax revenue and hosts major players in outbound trade and investment.
Besides, the private sector is an important force in boosting the development of rural areas, because a majority of private enterprises are township businesses. Also, the rapid development of the private sector has contributed to the remarkable growth of household income, and private companies are now a major force in promoting the development of social welfare and charity in China.