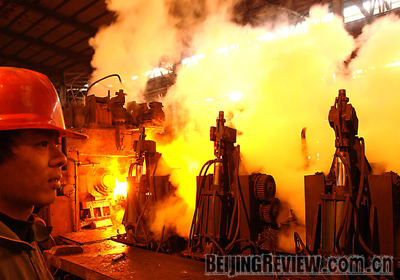 IN FULL SWING: A worker oversees machinery in the steel workshop
at Zhejiang Jianli Group Co. Ltd. in Zhuji. There are nearly 100,000 private enterprises in Zhuji
Private enterprises were virtually unknown when China adopted its reform and opening-up policy 30 years ago. But now the private sector has become an important part of the country's economy.
Zhejiang Province has been a pioneer in this area.
"Among every 25 people in Zhejiang, there is a boss of a private company," said Yao Zuoting, Deputy Director of the Zhejiang Development and Reform Commission (ZDRC).
From 1979 to 2006, the private economy in Zhejiang registered an average annual growth rate of 28.9 percent, much higher than the growth rate of its GDP, according to the ZDRC. In 2006, the private economy generated 863.96 billion yuan ($126.13 billion) and accounted for 54.9 percent of the province's GDP. In terms of private economy contributions to GDP, Zhejiang's was much higher than the country's other four developed regions: It was 19.9 percentage points higher than that of Jiangsu's; 35.2 percentage points higher than Shanghai's; 14.7 percentage points higher than Shandong's; and 14.9 percentage points higher than Guangdong's.
After 30 years of development, the private economy has been an important part of Zhejiang's economic development. According to the ZDRC, there had been 450,000 private enterprises in the province by the end of 2007, which accounted for nearly 80 percent of its total companies.
A 2006 survey conducted by the All-China Federation of Industry and Commerce showed that 203 of the country's top 500 private enterprises were based in Zhejiang. That same year, the Chinese Academy of Social Sciences issued a list of the country's top 50 private enterprises ranked according to independent innovations; 19 of them were from Zhejiang.
The private economy is a driving force in Zhejiang's economic development. ZDRC figures show that in 2006 the private sector accounted for 47.9 percent of the province's total tax revenues, 69 percent of its total employment, 44.8 percent of its total exports and 53 percent of its total fixed asset investments.