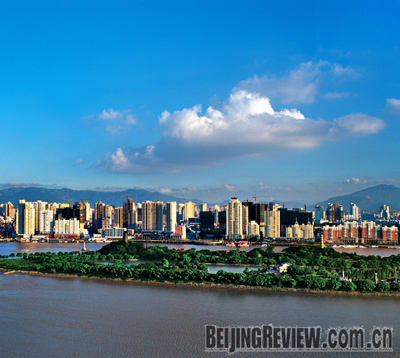 PRIVATE BOOM: Wenzhou, the heartland of the country's private sector, excels
in the manufacture of electronics, general machinery and garments, and is now paying
more attention to high value-added products. By ZHENG GAOHUA
The rags-to-riches story of Wenzhou, a city in southern, coastal Zhejiang Province that is hemmed in by hills on three sides, is legendary.
Isolated and impoverished 30 years ago, the city's only link to the outside world was through a ferry to Shanghai, some 500 km away, until a small airport was built in 1990.
But today it has become one of the country's wealthiest and most envied cities as the vanguard and heart of China's private manufacturers.
With 20 years of double digital growth, Wenzhou is one of the powerhouses shoring up Zhejiang Province's thriving economy. As home to many companies in the garment and textile industries and makers of cigarette lighters, it has the highest per-capita GDP in the country. Its more than 130,000 privately owned enterprises now account for 99 percent of the city's total businesses and contribute over 80 percent to its GDP. The private sector as the city's growth engine employs 66 percent of the local workforce.
Wenzhou's private enterprises have been the most active and vivacious players in a handful of industries such as electronics manufacturing, general machinery and garments.
While the rise of Shenzhen, the first of China's special economic zones, owes its dynamism in part to its proximity to Hong Kong and heavy investments from overseas, Wenzhou is more of a homegrown success story.
Its success did not happen overnight. Because of its remoteness and lack of farmland and state-owned enterprises, Wenzhou allowed private businesses to prosper freely in the late 1980s. Local businessmen told Beijing Review that they had no other choice then but to turn to the private sector because of the area's limited natural resources.
In the following years, a flurry of Wenzhou people from all walks of life threw themselves into the entrepreneurial ranks regardless of the myriad uncertainties that they faced. Family-controlled small and midsize businesses soon sprouted up, and specialized wholesale markets mushroomed throughout the city.
When it comes to exploring efficient ways to make money, Wenzhou's entrepreneurs, renowned for their boldness and acumen, have far outpaced their counterparts in other parts of the country.