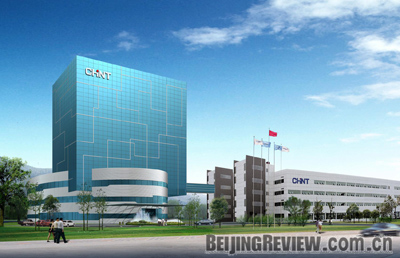 HI-TECH PACESETTER: Wenzhou-based CHINT Group Corp., a privately owned
manufacturer of low-voltage electric components, has sharpened its competitive
edge with its innovative products and improved management systems. By HU YUE
For decades it has been a truism that low-value goods could not be manufactured cheaper anywhere in China than in Wenzhou in east China's Zhejiang Province. As the cradle of the country's booming private businesses, the coastal city has been a trailblazer of the model of mass production at low cost and high output.
While the increasing costs of labor and materials have dragged down other businesses around the country, Wenzhou is gathering pace from more than just low-value production. The city's CHINT Group Corp., an electric components maker that was founded in 1984, stands out among the city's manufacturing success stories for its rapid growth.
The achievements of the small workshop that later became a top-name producer of low-voltage electric components such as switches and contactors have been remarkable. In 2006, it outbid a group of established foreign rivals, including Schneider Electric SA of France and ABB Ltd. of Switzerland, to supply equipment to Italy's national electricity company. Domestically, it is unrivalled in the industry. Last year, it had an annual turnover of 20 billion yuan ($2.9 billion) and more than 18,000 employees.
Nan Cunhui, CHINT's founder and president, attributed the privately owned company's breakneck growth to its vigorous innovative endeavors. In 1998, the company went on an innovation offensive. Ye Jiandong, Director of CHINT's Communication Unit, told Beijing Review that China previously could make only low-voltage electric components by copying those produced in the former Soviet Union and Europe. But the copied products were awkward and required a great deal of raw materials.
In the 1990s, the electric components industry offered rosy prospects for Chinese companies because of brisk demand and light competition. But CHINT, unlike its domestic fellow players, did not rest on its laurel. It spared no efforts in researching and developing new technologies to update its products, Ye said. A breakthrough finally came in 1998 when CHINT developed its energy-saving, low-voltage N-series products. They were a market hit and helped the company double its annual revenue.
Since then CHINT has committed 5 percent of its annual revenue to R&D. It has established its own research centers in Silicon Valley in the United States and in Europe. In 2006, it made a foray into the hi-tech area of solar products. CHINT's technology researchers now account for 20 percent of its total staff, Ye said. So far, the company has introduced more than 100 new products with independent intellectual property rights (IPR).
With its innovations as its most valuable assets, CHINT has not hesitated to protect them by legal force. In August 2006, it filed a lawsuit against France's Schneider Electronic for selling products that were based on technologies for which CHINT held the patents. After a 13-month game of seesaw, it won a landmark victory. Previously, the Chinese always had been the defendants in the vast majority of IPR violation cases that involved foreign players. Nan said the victory boosted the company's confidence in IPR protection and encouraged more Chinese enterprises to move ahead with their innovations.
Nan stressed that self-owned core technologies are the only passport with which a company can enter the club of world-class brands. Now that CHINT has become a world-class brand, its overseas presence has grown. It exports 20 percent of its products all over the world and generates handsome revenues that soared by about 60 percent from 2006 to 2007.