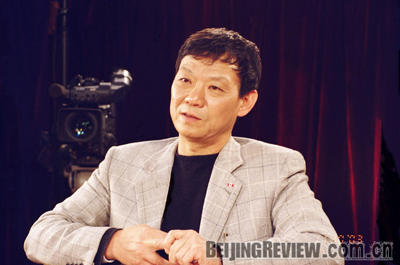 Zhou Dahu, President of Zhejiang Tiger Lighter Co. Ltd. of Wenzhou
Zhou Dahu sums up his business philosophy in one sentence: "Although the lighter is a small product, earnest efforts will bring us a large market."
Zhou, whose given name means "tiger," is president of Zhejiang Tiger Lighter Co. Ltd. in Wenzhou. Today, his company can produce more than 20 million metal lighters annually and has a turnover of more than 200 million yuan ($29.2 million). The success of lighter factories such as Zhou's has made Wenzhou the world's largest metal lighter producer.
Born in 1952, Zhou graduated only from junior middle school, because the "cultural revolution" (1966-76) interrupted his education. During the next decade, Zhou did many jobs in several places around the country and suffered many hardships. In 1976, he returned to Wenzhou and began working at the local post office.
In 1991, Zhou's wife, who then worked in a state-owned factory, was laid off and received compensation of 5,000 yuan ($730). With this money and 10,000 yuan ($1,460) in savings, Zhou turned a 20-square-meter room in his house into a cigarette lighter workshop. His wife was responsible for assembling the lighters along with several employees, while Zhou purchased parts and sold the lighters in his spare time.
"I chose the lighter industry because at that time, there had been special workshops processing various parts of lighters, and I thought the industry had a great potential," Zhou said.
Most lighters at the time were made in Japan and sold for hundreds yuan each, while lighters produced in Wenzhou cost less than 20 yuan ($2.9) each.
"The lighters made in Japan were expensive, because their quality was good," Zhou said. "I believed that as long as we could make products of good quality, the Japanese could not compete with us."
With such ambition, Zhou quit his job at the post office in 1992, rented a 300-square-meter factory and hired more than 100 workers. To better oversee the factory's operations, Zhou and his family moved there and lived in a 7-square-meter room with no toilet or kitchen.
"In the daytime we were bosses, and at night we just slept on the floor," Zhou said. "This was the life that Wenzhou bosses lived when we first started our businesses."
In the late 1980s and early 1990s, products made in Wenzhou faced a crisis, because for many consumers they became synonymous with poor quality. This made Zhou aware of the importance of quality and brand.
When demand for cigarette lighters soared in the first half of 1993, the number of lighter producers in Wenzhou increased from about 100 to 3,000, Zhou said. As a result, many factories abandoned quality and focused only on producing the greatest amount of lighters in the quickest time possible.
"If I had followed them, I could also have made some money quickly," Zhou said, but added that he did not drift with the tide and stuck to quality assurance. His workers and material suppliers disapproved of his adherence to quality and thought that they would not make any money by working with him. Zhou nearly had to close down his factory for lack of labor and materials. Just half a year later, the market rejected poor quality lighters, and customers started returning to Zhou.