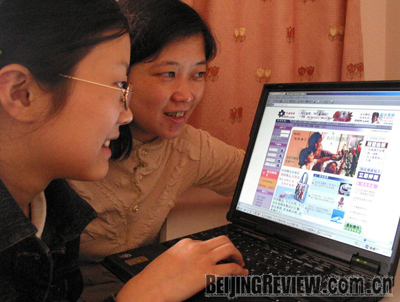 MARKET RULES: The new license requirement for those who engage in consumer-to-consumer
e-commerce has received stiff opposition from some online buyers and sellers
Online retailers in Beijing now have to take an extra step before they engage in consumer-to-consumer (C2C) business on the Internet. The Beijing Administration for Industry and Commerce issued a new regulation that as of August 1 requires online retailers to register for a business license prior to opening virtual shops. Individuals who own online non-profit enterprises are exempted from the rule.
The new regulation is designed to fine-tune the country's emerging C2C e-commerce market and reduce fraudulent sales practices. The business model, which involves sales or purchases of goods among consumers, is still in a nascent phase in China, although the overall number of online transactions is increasing. Because C2C e-commerce largely has been unregulated, it has been vulnerable to abuse by some unscrupulous sellers who accept payments for items they do not deliver, engage in pyramid scheme sales, or sell counterfeit or pirated products.
According to the directive, online shops registered in Beijing must apply to the local departments in charge of industry and commerce for a license to legalize their businesses. Details about the application procedures and fees have yet to be released.
Zhou Bohua, Director of the State Administration for Industry and Commerce, said in a public statement that the regulation first would be tested in Beijing on a trial basis and later implemented throughout the rest of the country.
Although the country's existing tax law requires online shops to pay taxes, it has been unevenly enforced because of loose regulations. The new online licensing requirement will make the enforcement of tax regulations much easier, because tax authorities will be able to keep track of online sellers.
Mixed Reviews
But many C2C shop owners are concerned that this will increase their operational costs and eat away the price advantages of online shops, which always has been the main attraction for buyers.
"The surprisingly low prices were a major factor that powered the online business boom," said Hong Jie, who sells garments on the Internet auction site Taobao.com.
With no rental fees, no charges from local industrial and commercial departments and few labor costs, online shops have considerable price advantages over their bricks-and-mortar counterparts.
In light of the new regulation and the subsequent enforcement of tax regulations that it is expected to bring, "it might be better now to simply shut down the shops," Hong said.
Hong said he only needed his identification card and a bank account card to be able to register his online garment shop on the Internet. But the new regulation would require him to apply for a business license.
It is no wonder then that some online shop owners oppose the new licensing regulation, which they believe will reduce their price competitiveness, said Lu Qijun, an expert with the State-owned Assets Supervision and Administration of the State Council, in an article on Sina.com.cn.