Small and medium-sized enterprises (SMEs) in China are facing a critical period of trying to survive the global economic slowdown. A recent government report shows a large number of SMEs in the Yangtze River Delta and Pearl River Delta regions have closed some of their factories or suspended production for the time being.
The U.S. subprime mortgage crisis, rising inflationary pressure, higher costs for labor, raw materials and energy, and a stringent domestic monetary policy have all put enormous external pressure on China's SMEs. But what is the root cause of the SME survival conundrum? And how can they be rejuvenated? The 21st Century Business Herald interviewed Chen Naixing, Director of the Research Center for SMEs under the Chinese Academy of Social Sciences, for some answers.
21st Century Business Herald: For a long time the cheap labor force has been a competitive edge for China, but it seems unsustainable in the long run. What's your view on China's human resource advantage?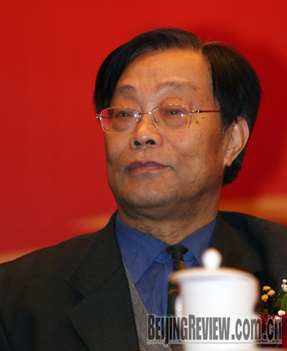 As China enters the international arena, we must think of what we can contribute to the world. Human resources are the best things that we bring to this globalization effort. What else can we contribute? Advanced management? High technology? Useful raw materials like oil? None of them.
Frankly speaking, without the international market, our human resource advantage could not be brought into full play. And under such circumstances, "made-in-China" products have sold well globally. China has seized a considerable portion of the international market with its cheap labor. Our manufacturing industry's takeoff, improved living standards, poverty elimination, and improved infrastructure are all based on our advantage in human resources.
China's manufacturing industry is at the low end of the global industrial chain and, in fact, foreign companies have taken the biggest portion of the profits. Many people have begrudged China the processing fee that it earns. But if we did not take the processing fee, our industries could hardly develop.
Many of the SMEs in the Pearl River Delta and Yangtze River Delta regions have closed down. What is the primary reason for their collapse?
I think the biggest pressure comes from the external environment, for instance, rules on energy conservation and emission reduction. But in my view, our SMEs can develop and upgrade all by themselves. For instance, SMEs once made money from pure labor, but now most of them are using machines.
Do you mean SMEs do not need extra assistance?
No. But we cannot deny the importance of government policy. Many people still believe SMEs are small workshops with high pollution and energy consumption. As a matter of fact, a lot of SMEs no longer fit the image people have of them. Domestic SMEs are increasingly setting up sound hardware and software systems to comply with international market conditions. We should not push them too hard. It takes time for SMEs to become perfect.
The government should readjust its policies for SMEs. At the end of last year, the government called for "preventing the economy from overheating and preventing inflation." But the world economy showed signs of recession at the beginning of this year. Under such circumstances, China's economic development has encountered many uncertainties. That's why we should readjust SME policies.
What should the government do?
On the one hand, the government should avoid further consumer price hikes, and on the other hand, it should prevent the economy from entering a downturn period. We should put more emphasis on production. In particular, we should reduce costs through reform in various sectors so that the SMEs can upgrade easily. In addition, we should improve our management and increase product quality to promote efficiency.
On average, the life span of SMEs is three to five years. What's your view on SMEs' life spans?
Competition will unavoidably lead to the bankruptcy of some SMEs. It is natural that SMEs' lives are short. But it is not a bad thing. I think it is rational that 5 percent of SMEs shut down each year, because more and more SMEs are registered each year.
What is the current situation of SMEs?
I do not have the latest figures yet. But I do know that from 1995 to 2000, about 10 percent of SMEs closed down, and the total number of SMEs was reduced. Of course, the reduction in the number of SMEs was because of market competition. Some were closed, merged, or acquired, which meant the scale of SMEs was enlarged.
In the first half of this year, a large number of SMEs were closed in the Yangtze River Delta and Pearl River Delta regions. In some industries involved in the production of glasses, shoes and lighters, more than half of the SMEs were eliminated in the first six months this year.
Only China's overall economic development can guarantee the interests of SMEs. If China can continue to compete with other countries through cost advantages, its SMEs also can survive.