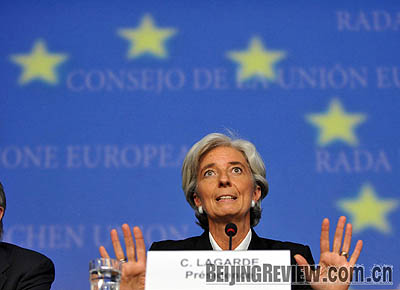 JOINT EFFORT: French Finance Minister Christine Lagarde announces new economic measures at an EU meeting on October 7 in Luxembourg (XINHUA/AFP)
The financial crisis that first made waves in the United States last year has become a global tsunami, roaring across the ocean and crashing down on other continents. Now European leaders are doing what they can to minimize the damage.
On October 3, after extensive negotiations in the Congress, U.S. President George W. Bush signed into law a $700-billion rescue plan authorizing the federal government to purchase mortgage-backed securities and other troubled assets held by failing American banks. But the financial crisis still threatens other countries and regions, including the European Union (EU). On October 7, EU finance ministers took steps to protect their markets.
"Europe is united in the face of the financial crisis and determined to act in a coordinated way," French Finance Minister Christine Lagarde said after chairing a monthly ministerial meeting. "We agreed to assure the solidity and stability of our financial system and carry out any measures to reach that objective."
In a joint statement, the finance ministers said they "all commit to take all necessary measures to enhance the soundness and stability of our banking system and to protect the deposits of individual savers."
Banding together
Among the measures aimed at restoring financial stability, the ministers agreed to more than double the minimum guarantee for bank deposits to 50,000 euros ($67,500). Some EU members are even prepared to raise the minimum amount to 100,000 euros ($135,000).
Three days earlier, the leaders of Europe's four largest economies-Italian Prime Minister Silvio Berlusconi, German Chancellor Angela Merkel, French President Nicolas Sarkozy and British Prime Minister Gordon Brown-held an emergency summit in Paris.
Sarkozy, who also holds the rotating EU presidency, called the meeting to develop a coordinated response after the failure of several European banks. The leaders agreed to release 32 billion euros ($44 billion) in European funds to help small businesses survive, far short of the 300 billion euro ($410 billion) bailout that France had in mind. Most EU countries insist they are better off addressing the crisis on their own.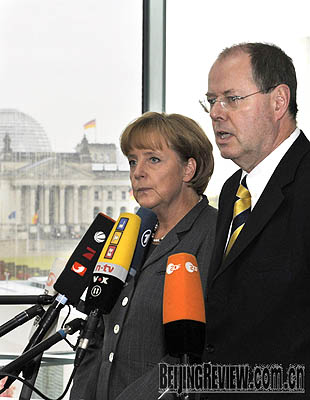 TO THE RESCUE: German Chancellor Angela Merkel and German Finance Minister Peer Steinbrueck appear at a press conference in Berlin on October 5, announcing the government's rescue plan for German mortgage lender Hypo Real Estate (XINHUA/AFP)
EU members do not think the situation is quite urgent enough for broader coordination, said Liu Jiansheng, a researcher on European studies at the China Institute of International Studies. The impact that the global financial crisis has had in each country varies depending on the level of economic development, as well as the country's relationship with the United States. In addition, the EU has not completed its integration and still has a limited decision-making system. Moreover, some EU members believe that such coordinating moves might impede on their sovereignty, Liu said.
"The situation in Western and Central Europe-like Germany, France, Italy, Belgium, the Netherlands and Britain-is worse than that in Eastern Europe," he told Beijing Review. That is one reason why EU powers are struggling to work together, he added.