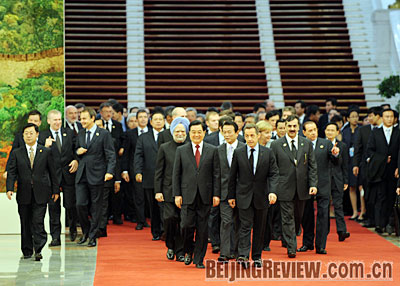 BIG FAMILY: Asian and European leaders gather in Beijing for the Seventh Asia-Europe Meeting on October 24-25 (FAN RUJUN)
How should the world cope with the raging financial storm? That question topped the agenda of the Seventh Asia-Europe Meeting (ASEM), held on October 24-25 in Beijing. At the biennial summit, leaders from 45 Asian and European countries and organizations carried out in-depth discussions on pressing international and regional issues under the theme of "Vision and Action: Towards a Win-Win Solution." They adopted a statement on the international financial situation and a declaration on sustainable development, as well as a chair's statement.
ASEM members represent about half of the world GDP, 58 percent of the world's population and 60 percent of world trade. At a time when the international community is facing widespread economic difficulties, their voice is vital to finding a global solution. All countries should take actions to stabilize the financial industry and prevent the financial crisis from wreaking havoc on the real economy, say officials and experts in Beijing.
Confidence counts
Chinese Premier Wen Jiabao highlighted the words "confidence, cooperation and responsibility" when answering a question about the financial crisis at a press conference at the end of the ASEM summit. "We are glad to see that many countries have taken measures and made initial progress," he said. "But this is not enough given the current situation. Still more needs to be done."
Confidence is an important message the two-day summit conveyed, he said, adding that it provides a source of power to overcome difficulties.
At the same time, Wen called on the world to learn lessons from the financial crisis. Governments, companies and supervisors should shoulder respective responsibilities. While innovations in the financial industry may help develop the economy, financial supervision is crucial to the security of the financial system, he said.
Countries should balance the development of the financial sector and non-financial economic sectors to prevent financial problems from affecting the real economy, he said. They should maintain balance and harmony between consumption and accumulation of wealth to ensure economic stability, he said.
One of the causes of the financial crisis is that supervisors failed to scrutinize some companies' innovative financing tools, said Lei Da, a professor at the School of Economics, Renmin University of China. Also, these companies operate globally, while financial supervision is conducted by individual countries.