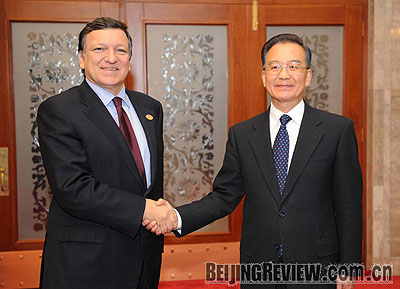 COOPERATION AND CONFIDENCE: Chinese Premier Wen Jiabao meets European Commission President Jose Manuel Barroso on October 24 in Beijing
Beijing once again found itself at the center of international diplomacy. Two months after the 2008 Summer Olympics, which were a diplomatic extravaganza in their own right, the Chinese capital played host to the leaders of the 45 members of the Asia-Europe Meeting (ASEM). Among them were 10 heads of state and 26 heads of government and international organizations.
The seventh ASEM summit, held here on October 24-25, turned out to be a "pragmatic, open and consensus-seeking" meeting with remarkable achievements, said Chinese Foreign Minister Yang Jiechi.
At the summit, leaders adopted three outcome documents-the ASEM Statement on the International Financial Situation, the Beijing Declaration on Sustainable Development and the Chair's Statement. They also put forward 17 new initiatives for cooperation. Four of them were from China-an eco-city network, a Cultural and Art Festival, promoting trade security and facilitation between Asia and Europe, and cooperation on capacity building for disaster relief.
At the summit, leaders discussed a wide range of topics, including food security, cooperation in disaster relief, sustainable development, climate change and intercultural dialogue and made many constructive and forward-looking suggestions, he said.
The summit also contributed to the improvement of bilateral relations between China and other Asian and European countries, he added. In addition to attending the ASEM summit in Beijing, leaders of some countries paid state visits to China. Chinese state leaders and their foreign counterparts held more than 40 bilateral meetings.
China and India pledged to enhance their coordination in regional and international affairs. China and Viet Nam signed eight cooperative documents.
On October 23, China and Singapore signed a bilateral free trade agreement, two years after negotiations began. Pakistani Prime Minister Yousaf Raza Gilani laid the cornerstone for the 4,500-square-meter Pakistan-China Friendship and Cultural Complex in Beijing the next day.
China and Denmark announced plans to develop a comprehensive strategic partnership. China and France decided to take the 45th anniversary of their diplomatic relations next year as an opportunity to further upgrade their ties. China and Germany agreed to strengthen consultation on bilateral and international affairs. The China-EU School of Law was inaugurated at the China University of Political Science and Law in Beijing on October 23.
"By hosting the ASEM summit, China demonstrated its firm determination to follow the road of peaceful development, pursue reform and opening up and implement an independent foreign policy of peace," Yang said. "The summit also helped give other countries a more objective picture of China and bolster their confidence about China's development."
More than 1,800 journalists from 51 countries covered the ASEM summit in Beijing. It not only showed the resolve of Asian and European countries to jointly address the financial crisis, but also reflected their aspirations to deepen mutual understanding and promote common development, Yang said at a press conference at the end of the summit.