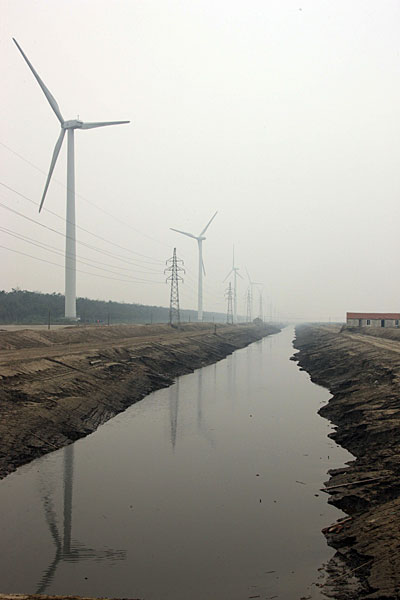 SEA BREEZE: Rudong wind farm, located in the coastal Jiangsu Province, takes advantage of strong sea wind and makes electricity out of it (XINHUA)
The global oil crunch and environmental degradation have given rise to an ardent search for alternative and green energies throughout the world. For China, wind power is a choice one and its development is sizzling hot backed by favorable government policies.
Overlooking the burgeoning Yangtze River Delta region, a total of 100 giant wind turbines run for several km along the coastline of Jiangsu Province. The turbines, each of which is over 70 meters in height and 6.5 tons in weight, are scattered along the coastal beaches where the wind is powerful enough to move them.
They belong to Rudong wind farm, developed by China Guodian Longyuan Electric Power Group Corp. It is one of four wind farms Longyuan has developed in Jiangsu Province, with an investment totaling 2.4 billion yuan ($351 million) by the end of 2008.
In the first phase of investment, 100 wind turbines were put into operation at the end of 2007. According to Jin Ji, head of the wind farm, Rudong yielded nearly 900 million kwh by the end of May this year, saving the equivalent of 340,000 tons of standard coal and 1.8 million tons of water, and reducing emissions by 940,000 tons of carbon dioxide and 5,400 tons of sulfur dioxide.
"Wind power is clean, renewable and sustainable," said Jin, whose company is pouring money into green energies in line with government decree.
For a long period of time and until now, coal has dominated the energy market in China. The burning of coal is one of the biggest sources of emissions of carbon dioxide, which is the culprit behind climate change, and sulfur dioxide, a source of acid rain.
Faced with the challenge of climate change, the Chinese Government is sparing no effort in promoting green and renewable energies that might replace coal consumption. It has adopted a string of policies to encourage companies to invest in wind, solar and nuclear power.
Li Jiansheng, Vice General Manager of Longyuan, said the company now enjoys three major favorable policies. First, the value-added tax for wind power plants is halved compared with coal power plants. Second, the government subsidizes wind power plants by dozens of cents per kwh, although Li declined to say exactly how much the government subsidy is. Third, the government will partially reimburse companies for imported spare parts and raw materials that are used to build wind power facilities.
Before the wind farm was built, the vast coastal area was totally deserted, covered with mud and weeds, and not suitable for human habitation, said Tang Yuanxiang, director of the wind farm's safe production department.
Tang said the exploration of the muddy beaches is actually a win-win scenario. "For one thing, we make full use of useless land; for another, we provide clean energy to the power-hungry eastern coastal provinces."
"Judging by the current situation, the inland doesn't have much space for further wind development," said Shi Lishan, Deputy Director of the Renewable Energy Department of the National Energy Administration (NEA). "But more wind power can be utilized on the coastal beaches, above coastal waters and deep seas."