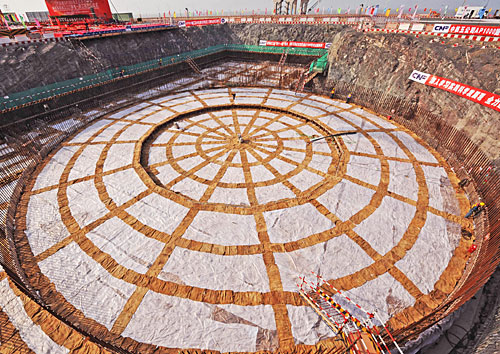 SPROUTING ENERGY: The first phase of the Sanmen Nuclear Power Plant started construction on April 18 (TAN JIN)
Nuclear power has taken center stage in China's nationwide campaign to develop new and clean energy sources.
In the latest effort, Chinese state-owned nuclear power giants invested over 40 billion yuan ($5.86 billion) as an initial funding injection to build a new plant under the name Sanmen Nuclear Power Co. Ltd. in Sanmen County, Zhejiang Province.
Sanmen Nuclear Power Plant will use the most advanced third-generation technology—the AP1000 pressurized water reactor, which was developed by the U.S. electric company Westinghouse. Sanmen plans to build six nuclear power units, each with an installed capacity of 1,250 mw.
The whole project has been divided into three phases. The over 40-billion-yuan investment in the first phase that will see two units built is the biggest cooperative project between China and the United States in the field of energy to date. The two units, with a combined capacity of 2,500 mw, are expected to generate 17.5 billion kwh of electricity every year. By 2015, they will generate 3.3 percent of the total power needed by Zhejiang Province.
Construction kicked off last year for the first phase and is expected to be completed in 2013 at the earliest.
Nuclear power is one of the major energy sources the country is tapping to help reduce greenhouse gas emissions. Currently, 11 nuclear power units are in operation with a total installed capacity exceeding 9 million kw. Last year, electricity generated by nuclear power plants nationwide accounted for over 2 percent of the total in China. Nuclear power generation is expected to rise to 4 percent of the country's total by 2020, according to statistics from the National Energy Administration (NEA).
China's nuclear power output in 2008 was equivalent to the electricity generated by more than 23 million metric tons of standard coal, which helped reduce carbon dioxide emissions by 67.6 million metric tons, sulfur dioxide by 384,200 metric tons and nitrogen oxide by 170,300 metric tons, said an NEA report.
Safety not a problem
Sanmen is ideally located—on a peninsula surrounded by the sea and mountains. It does not sit atop usable farmland, and only a small population lives nearby.
After 20 years of development, Chinese nuclear power technology has effective safety controls and a supervision system that meets the most advanced international standards.
"After completion, those reactor units will be able to sustain the crash of large civilian aircraft, like the ones used in the September 11 attacks," said Gu Jun, General Manager of the Sanmen Nuclear Power Plant.
The safe disposal of nuclear waste is a major problem for most nuclear power plants. China disposes its nuclear waste in a remote area of northwestern Gansu Province, which is proved by experts to be the most ideal place for disposing nuclear waste. And Sanmen will do the same.
Gu Jun said the waste would first be stored in the reactor's water inside the plant for 10 to 15 years and then moved to Gansu.
Locals hailing the investment
The biggest concern of residents around nuclear power plants is the projected radioactivity, which can be lethal to all organisms. But Sanmen's residents have so far taken the project in stride.
Thirty-year-old Sanmen resident Bao Zhen told Beijing Review that he welcomed the huge government investment in the power plant.
He said the construction project has spurred local economic development. His family, which supplies bricks, cement, tiles and transportation, has come into a fortune.
The power plant also increases local employment, as a large number of local residents are hired to clean, garden and maintain the environment, except for those who take other jobs with the project.
"In the past, this place was totally isolated because it is surrounded by mountains in three directions. I would have never come to this barren land if it weren't for the nuclear power plant," said Bao.
Bao's girlfriend works in a hotel owned by the plant. He picks her up every day when she gets off work. He said her job in the hotel is enviable for many young women her age, because her salary is over 1,000 yuan ($146) a month and she gets insurance and other fringe benefits.
"She earns more than I make," Bao said. "The power plant pays them and never delays on payments, even if the hotel is running a deficit."
He said neither he nor his girlfriend worry about the radioactivity. "There are lots of nuclear power plants in the world. We trust the advanced technologies and the government," he said.