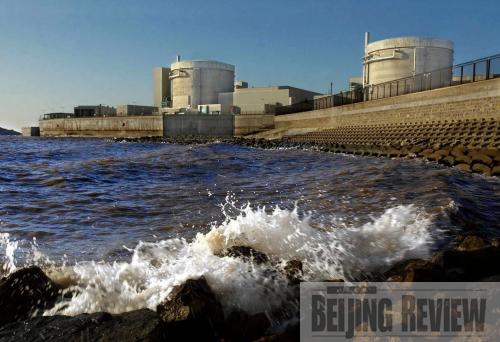 INDEPENDENT INNOVATION: On July 24, 2003, the second reactor of the third phase of the Qinshan Nuclear Power Plant with independent intellectual property rights was put into operation (TAN JIN) 
Major economies in the world have raised various proposals to reduce carbon emissions by applying clean energies in a bid to tackle climate change. As a major consumer of coal, China is facing mounting pressure, and experts are wrangling about which clean energy should come first on the government agenda. To get a closer look at the current situation in China, Beijing Review reporter Liu Yunyun sat down with Zhou Dadi, Director General Emeritus of the Energy Research Institute of the National Development and Reform Commission, who shared his insights on clean energy. Edited excerpts follow:
Beijing Review: As a major carbon-emission country, how serious is the situation now in China? Why has clean and green energy become such a hot topic?
"In terms of coping with climate change, China, as a responsible country, will shoulder its due responsibility for its own development and its consequences." —Zhou Dadi 
Zhou Dadi: Climate change is mostly caused by the emission of carbon dioxide, which accounts for 70 percent of all greenhouse gases. In 2006 China surpassed the United States to become the biggest carbon emitter in the world. Though it is depressing, it is true and we cannot ignore it. Since 2005, our carbon emissions have soared with a 7-8 percent growth rate annually, which is in accordance with the growth in energy demand. China has 1.3 billion people, so even though the per-capita carbon emission is far less than that of the United States, our total emission of carbon dioxide is huge in size.