Yang Liwei: China's first man in space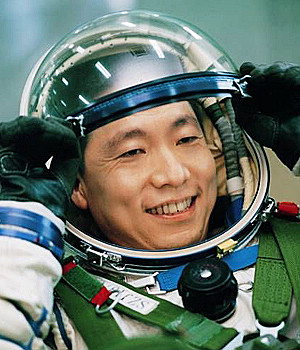 Yang was born into a teachers' family in Suizhong County, Liaoning Province on June 21, 1965. He has an elder sister and a younger brother.
In 1983, he enrolled in the No.8 Aviation College of the Air Force of the Chinese People's Liberation Army. He was an outstanding student during the four years of study there. Upon graduation in 1987, Yang became a fighter plane pilot. In 1996, he passed the physical tests for the astronauts program. In January 1998, he was assigned to the Beijing Astronaut Training Center.
Hu Yuebiao, another pilot at the center, said Yang "never smokes or drinks and was born to be an astronaut."
Yang's reported favorite hobby is playing basketball. He likes running too.
Wang Yongzhi: chief designer of China's manned space program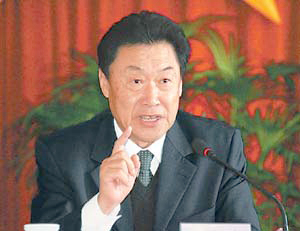 Wang was born in Changtu County, Liaoning Province, on November 17, 1932. He enrolled in the Aviation Department of Tsinghua University in 1952 and went to Moscow to study aircraft and missile design in 1955.
Wang began to work on the space program in 1986. The technical and economic feasibility study lasted until January 1992.
In August 1992, the government gave the go-ahead to the manned space program. Wang said he was afraid of failure, because the project was so important and so expensive.
"My biggest hope is to work for another few decades for China's manned space program," he said.
Yuan Jiajun: chief commander of Shenzhou manned spacecraft project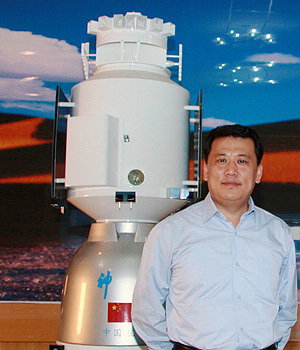 Yuan Jiajun, 41, is now president of the Chinese Academy of Space Technology. He is man of action and speaks little. In 1980, he enrolled in Beijing University of Aeronautics and Astronautics. In 1984, he went on for graduate study at the Chinese Academy of Space Technology. In 2002, he became a vice chairman of the International Aerospace Federation.
Under his leadership, China built its first re-entry module for a spacecraft. His motto: "Be successful!"