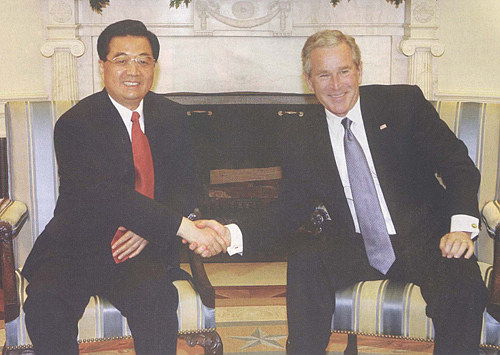 DIRECT CONSULTATION: Meeting with his U.S. counterpart George W. Bush in Washington D.C. marks the climax of Chinese President Hu's recent U.S. visit (LAN HONGGUANG)
Chinese President Hu Jintao made his first state visit to the United States April 19-21. The president kicked off his tour in Seattle, where he had intense contact with the American business community as represented by Boeing and Microsoft. Hu then landed in Washington D.C. for a summit meeting with President George W. Bush, followed by a visit to Yale University. During the meeting with Bush, Hu conveyed the idea that China and the United States are "not only stakeholders, but also constructive partners." Hu's visit marks the progressive institutionalization of Sino-U.S. cooperation, according to Chinese observers.
As Chinese President Hu Jintao concluded his visit to the United States on April 21, Washington's observers scrambled to look for the slightest breakthroughs on trade differences between the two nations. The Chinese leader didn't announce any new appreciation of the yuan against the U.S. dollar - which some key politicians in Washington would like to see - or make any explosive pronouncements that would immediately assuage concerns about the U.S. trade deficit with China. But something more subtle took place that gave the Chinese leader's first state visit to the United States a significance beyond a "summit of symbols," a phrase coined by The Washington Post to headline the event.
Prior to Hu's Washington tour, Chinese executives cut a swath of business deals across the United States, signing 107 commercial contracts or agreements worth more than $16.2 billion. Chinese Vice Premier Wu Yi co-chaired the 17th session of the U.S.-China Joint Commission on Commerce and Trade (JCCT), which announced specific agreements aimed at reducing trade tensions, such as reopening the Chinese market to U.S. beef. Combined with Hu's U.S. visit, Wu's discussion with the Joint Commission and the business contingent (also spearheaded by Wu) amounted to a three-pronged attack on trade frictions that, on balance, was viewed favorably all the way from the governor's mansion in South Carolina to the White House.
Stopover in South Carolina
"I would say it was a very productive visit, an important visit," South Carolina Governor Mark Sanford said of Wu's stopover there, in an interview with Beijing Review.
In collaboration with Wu's visit, China-based Haier Co. Ltd., a maker of washing machines, refrigerators and other appliances, announced it would boost its employee count from 200 to 1,000 at its Camden, South Carolina facility.
Sanford also delivered a letter to the vice premier that outlined several ways in which South Carolina was prepared to further enhance trade relations with China.
According to the letter, the state would develop a working group to assist Chinese firms and individuals with visa, tax and other matters. It said South Carolina was prepared to develop a joint innovation center that "would make it easier for Chinese products to find markets in the United States." The letter also encouraged a "print media editorial exchange," whereby Wu would place a positive editorial focused on trade in U.S. media and Sanford would do the same in the Chinese media. His interview with Beijing Review appears to have been his first attempt at such an initiative, although his office was still awaiting a response to the letter. Sanford said he hopes to sign an official agreement with the Chinese, adhering to the points in the letter.
Wu's visit appears to have afforded Sanford the opportunity to reach out to China in a state where politicians aren't always so friendly to the nation. U.S. Senator Lindsey Graham, also a Republican, co-sponsored a bill that threatens to impose a 27.5 percent tax on Chinese imports unless China negotiates an appreciation of the yuan against the U.S. dollar. He has argued that the yuan is artificially low against the dollar, which makes it difficult for American workers to be competitive with Chinese workers producing similar products. A vote on the bill is temporarily delayed in the Senate.
"We have different approaches," Sanford said, referring to the way he and Graham deal with the Chinese.
Sanford, who referred to South Carolina as the "epicenter of textile job loss," said both he and Graham are "after the same end result, which is, moving us away from a one-way street with regards to jobs" moving from South Carolina to China.
But, Sanford said, "The key is to look for some kind of common ground and solve problems."