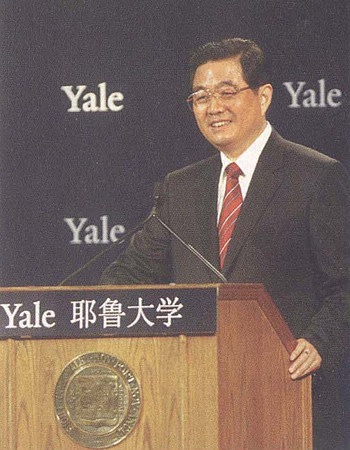 Hu Jintao at Yale University (LAN HONGGUANG)
Joining the fair-trade table
Shortly after Wu visited South Carolina, she was dealmaking in Washington at the JCCT meeting on April 11.
In addition to the agreement she helped forge with the United States on resuming beef imports to China, her delegation announced other measures that touch closer to the heart of trade concerns for U.S. businesses and politicians.
For one, the delegation announced that the Chinese Government has pledged to step up enforcement in combating piracy of films, music and software. As an example, it stated that the government took action against 14 factories producing illegal optical disks. It also said the government issued a notice requiring the pre-loading of legal operating system software on all computers produced or imported in China.
The delegation also announced that all laws and regulations pertaining to trade would be published in a single official journal, called the China Foreign Trade and Economic Cooperation Gazette, to enhance business transparency and the rule of law.
"There is a whole host of technical and not necessarily flashy changes that are involved with introducing market forces in a way that is going to benefit China and hopefully benefit the rest of the world in these dimensions of facilitating trade," according to a well-placed U.S. source who spoke only on condition of anonymity.
Still, some China trade watchers took the glass-half-empty attitude, suggesting certain JCCT announcements were small in substance as well as scale.
"What [the new business journal] does is to create the possibility for businesses to say, 'this is what the law says, this is what happened [to us contrary to the law],'" said Satya Gabriel, associate professor of economics at Mount Holyoke College in South Hadley, Massachusetts, and author of Chinese Capitalism and the Modernist Vision. But Gabriel said the journal isn't going to make a difference in enforcement of the laws right away.
Enforcement also will be an issue with piracy, he said, because enforcement happens at a local level. Yet residents in some localities depend on selling pirated software for their livelihood.
"Local leaders have to be on board with this," Gabriel said.
Responsible stakeholding
For what it's worth, however, national leaders in both countries appear to be seeing eye-to-eye, more and more.
A recent report issued by the White House's Council of Economic Advisors said, "The United States will continue to work with China to assist its integration as a responsible stakeholder in the international economy."
Asked if the White House now views China as more of a responsible stakeholder (a term that has become popular with the Bush administration) now after Hu's visit, Beijing Review's source said that on the whole, yes.
"Yes, in so far as President Hu echoed a lot of comments that he and others in the government had been making and acknowledged that what happens in China is no longer just a matter of China," he said, referring to China's acknowledgement that the country does have a large trade surplus, which has an impact on the balance of global trade.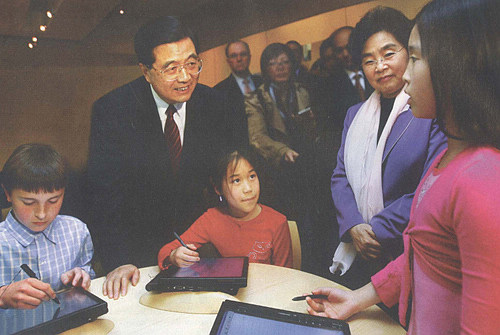 LANGUAGE CLASS: President Hu Jintao talks to American children learning Chinese with the help of computers at Microsoft headquarters in Redmond, Washington (LAN HONGGUANG)
Indeed, in public remarks after meeting with President George W. Bush, Hu said, "China pursues a policy of boosting domestic demand, which means that we'll mainly rely upon domestic demand expansion to further promote the economic growth of the country. We do not pursue excessively high trade surplus."
Bush, meanwhile, dwelled with appreciation on Hu's statement.
"I am heartened by the president's answer because he recognizes that a trade deficit with the United States, as substantial as it is, is unsustainable," Bush said. "I appreciate his statement very much, because the American people - all we want to do is to be treated fairly in the international marketplace."
The United States imported $243.5 billion in commerce from China in 2005, but exported only $41.8 billion in goods and services to the nation, and the trade deficit has been growing, according to the US-China Business Council.
Outside the reach of the White House and its handlers, economists had mixed reactions to Hu & Company's visit to the United States.
"It doesn't seem to me that a lot of major things were addressed," said Ernest Zampelli, professor of economics at Washington D.C.-based Catholic University of America. "I saw the headline in the [Washington] Post that said, Bush and Hu 'Produce Summit of Symbols.' I think that was probably true."
However, Gabriel disagreed with the sentiment.
"There's a tendency to say not much happened," he said. "In fact, a lot happened, but it happened at the business level. That's what drives economic relationships anyway."
(Reporting from Washington)