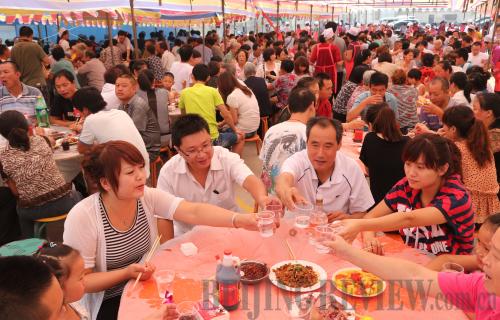 ONE FOR ALL: Hundreds of residents raise their glasses in Xi'an, capital of Shaanxi Province, on September 5, 2012 (CFP)
Foreigners are often astonished at the prevalence of drinking when they first arrive in China.
Judith Hagenhofer, an Austrian who has toured China thrice, found the culture of drinking an interesting phenomenon. "The first time I visited the country, I met a French guy doing an internship in Shanghai. He had brought a bottle of very exquisite French wine to give to his boss and colleagues, and was quite shocked when they simply did ganbei!" she said, referring to the "bottoms up" tradition when drinking at dinner parties.
Having attended several such occasions, she found it awkward that those who refrain from drinking for whatever reason are considered impolite or rude.
However, her memory of drinking baijiu is not all bad. She was once the guest of a Chinese family in Henan Province and was invited to celebrate Spring Festival with them and their relatives. That winter was particularly cold and "We were grateful for the baijiu served with the food, because it kept us warm."
Sloan Lindsey, an American, said that drinking with colleagues was a free and interesting way to jump social boundaries when he worked at a Department of Materials Science and Engineering of Zhejiang University lab in 2008-09. "However, I don't think I ever walked out of any work party in a straight line," he added.
In American culture, he explained in referring to formal occasions and drinking with superiors, "We clink glasses, but it is very important to not drink too much for fear of looking like someone with poor self-control." Lindsey added that the concept of "bottoms up" is usually only applicable in a situation where everyone is treated as equals.
Nowadays, due to increasing exposure to Western life styles and ideas, the phenomenon of persuading people to drink as much as they can is diminishing, especially in metropolises such as Beijing and Shanghai.
Nevertheless, while many parties throughout China still don't finish until everyone is dead drunk, the culture of enjoying liquor remains open to any who savor fine tastes and traditions.
The History of Alcohol
Baijiu's success is closely linked to the long history and profound culture of liquor in China. In 1979, Chinese archeologists discovered a group of Neolithic tomb relics at the foot of Taishan Mountain in Shandong Province, along with several hundred pieces of pottery containing carbonized grain, used in brewing alcohol. The site has subsequently been dubbed the birthplace of China's liquor culture.
During the Western Zhou Dynasty (1046 - 771 B.C.), specific regulations on the production and consumption of liquor were set in place alongside officials to administrate the process. At the time, alcohol was for the exclusive use of the upper classes such as imperial families and nobles. In addition to being consumed, liquor was additionally used in sacrificial ceremonies. Brewing techniques also made big progress with the introduction of yeast.
Over time, liquor managed to maintain its close relationship with literature. Li Bai (701-762), the greatest poet of the Tang Dynasty (618-907), had a hobby of drinking wine, during which time he composed some of his best work. Nowadays, the poet is fondly known as "the saint of alcohol." Li's friend, fellow writer Du Fu (712-770), even wrote a poem to describe the connection between the former and drinking. "Li could create a hundred poems by drinking a liter of liquor," it read. In the end, Li died from over-consumption of alcohol.
Well-known liquor brands in China include Moutai from Guizhou Province, Wuliangye from Sichuan, Fenjiu from Shanxi and Jiuguijiu from Hunan Province.
Email us at: liuyunyun@bjreview.com