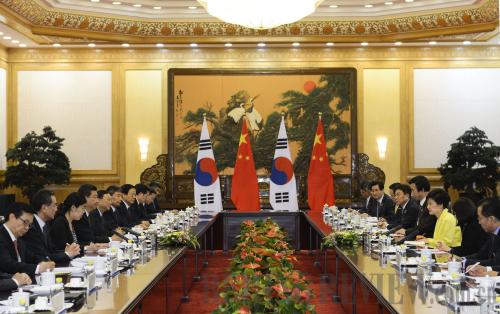 BUILDING TRUST: Chinese President Xi Jinping holds talks with South Korean President Park Geun Hye in Beijing on June 27 (CFP)
Economic development, cultural exchanges, and a tense situation on the Korean Peninsula—these shared opportunities and challenges are driving China and South Korea closer together.
South Korean President Park Geun Hye made a four-day visit to China from June 27 to 30. The two East Asian neighbors confirmed they will cooperate more on bilateral relations and the regional issues in Northeast Asia.
A new chapter
China and South Korea established a diplomatic relationship in 1992. This was Park's fourth visit to China, and the first since she assumed the presidency. As the visit took place only months after both countries underwent a leadership change, it is expected to open a new chapter in bilateral relations.
China is the first Asian country and the second big power Park has visited since taking office. Previously, she made a visit to the United States. Park's China visit broke with a traditional pattern wherein new South Korean presidents visited the United States first, then Japan, and China in order.
"Park's visit hints China's elevated status in the current South Korean Government's diplomatic strategy," said Qu Xing, President of the China Institute of International Studies (CIIS). He explained that this is due to China's growing significance to South Korea's economy and China's influence on the Korean Peninsula as well as regional security.
Shi Yongming, a researcher on Korean Peninsula studies with the CIIS, echoed Qu's view, saying Park's travel arrangement undoubtedly means that China is of great significance to South Korea. "It stands to reason that the South Korean president should visit Washington due to the military alliance between them. But in terms of practical diplomatic policy-making, China's importance is on the rise," Shi said.
Shi told Beijing Review that such a decision not only influences China-South Korea relations and the regional situation, but also demonstrates South Korea's growing diplomatic autonomy. "In past years, South Korea paid more attention to dependence on the U.S.-Japan alliance. The new South Korean administration has realized the negative outcome of overdependence, and started to emphasize the country's independent diplomatic policy, so as to lift its own status on regional issues," he said. Shi stressed that what is most important between China and South Korea is for them to pursue cooperation with mutual trust, which should not be influenced by their different social systems.
During Park's visit, leaders of the two countries reiterated support for building a bilateral free trade agreement (FTA). Shi believes that there are no major differences between the two sides on this issue, and they are highly likely to reach such an agreement, which will benefit both countries. The two countries have conducted five rounds of FTA negotiations since the talks began last year.
Economic and trade cooperation has been an important component of bilateral relations. Annual trade between China and South Korea has increased almost 50 times and reached $256.3 billion in 2012, according to Chinese official statistics. Economic cooperation is high on the agenda during Park's visit. She headed a 71-member trade delegation consisting of South Korean business executives. That number bested the 51-member economic delegation that Park headed during her U.S. visit. Moreover, Park's trip to China's western city of Xi'an is likely to increase the presence of South Korean companies in China's inland cities.
Park has extensive knowledge of Chinese culture, and once admitted that it was Chinese philosophy that enabled her to find inner peace during difficult times. She addressed listeners in Chinese during a speech at Tsinghua University in Beijing.
Cultural exchanges have been growing alongside bilateral relations. In 1993, there were fewer than 4,000 South Korean people living in China. In 2012, bilateral personnel exchanges exceeded 7 million. There are more than 800 flights between the two countries every week.
Peninsula concerns
Considering the recent tense atmosphere on the Korean Peninsula, consolidating stances on related issues inevitably became an important topic during Park's China visit. China and South Korea reiterated their stance of denuclearization on the peninsula. Chinese observers believe the common interest of protecting regional peace is driving the two countries closer. Strengthening communication and consensus between the two sides could help restart the six-party talks.
Tensions on the Korean Peninsula eased slightly in June after senior diplomats from North Korea said the country was ready to join in any form of talks, including the long-stalled six-party talks. Qu pointed out that the frequent and active communication by Pyongyang is based on the tremendous effort on the part of China. He believes that China and South Korea must push for the restart of the talks. The six-party talks, which involve North Korea, South Korea, China, the United States, Russia and Japan, are by far the most effective means for handling the Korean nuclear issue.
Unlike her predecessor Lee Myung Bak, who insisted on taking a hard stance against North Korea, Park is more rational and moderate. For Park, who promised on her campaign trail and in her inauguration speech to build trust with Pyongyang, an opportunity has arisen.
"The core of the Korean Peninsula issue is still the relationship between South Korea and North Korea," stressed Shi. South Korea has been strongly dependent on Washington because of its opposition to North Korea, which has deepened hostility between the two sides.
Shi pointed out that there are three major obstacles between them: historical issues, ideological differences and the nuclear issue. He suggested the two sides shelve ideological differences to restore mutual trust. "Frictions surrounding ideological differences are much more serious than the nuclear issue," Shi noted.
Shi said there is still uncertainty on the peninsula. If nuclear and ideological issues continue to escalate, the danger of a military conflict will grow, he warned. "Washington will not allow this to go further. If North Korea keeps ignoring the persuasion of the international community, how long will it be before tougher sanctions come?"
Email us at: dingying@bjreview.com
Consensus
- Advancing negotiations on the China-South Korea free trade agreement and extending their currency swap arrangement
- Establishing a joint committee on people-to-people exchanges and expanding programs in education, culture, media, tourism, youth and local regions
- Enhancing coordination in the UN, the Group of 20 and other major international mechanisms and cooperating to tackle global issues such as climate change
- Promoting denuclearization on the Korean Peninsula and safeguarding peace and stability in the region
(Source: Xinhua News Agency)