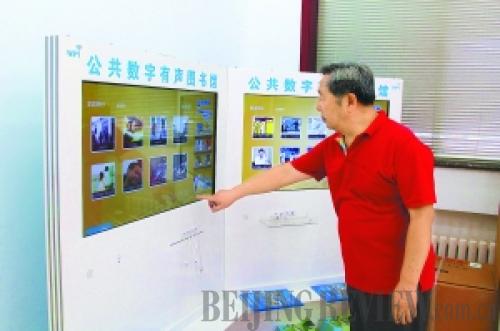 ONE CLICK AWAY: Wang Yunlong uses a digital audio library in a community center on Dewai Street in Beijing's Xicheng District (YU ZHIXIAO)
"Hello! You are listening to Dedicated My Youth to You by Feng Xiaogang. Chapter one…"
On a summer morning, 70-year-old Wang Yunlong was listening to an audio book in a community center on Dewai Street in Beijing's Xicheng District. After listening for a while, he tapped a button on the lower right side of the screen to download the book onto his own Kting audio device.
The digital audio library, developed by Beijing Oriental Vision Film Culture Media Co. Ltd, is the country's first public digital audio library introduced to residential communities. The model Wang Yunlong used was installed in September 2012 to serve local residents, particularly visually impaired or illiterate elderly residents.
Designed like a large open book, the machine consists of two large navigation screens and allows two users to sample its audio book collection simultaneously.
Cyberlibrary
According to Wang Huijuan, an administrator of the community, the "digital audio library" offers programming in various categories and supports content playback when a user taps the cover of one of the thousands of books in its collection, 80 percent of which can be downloaded for free.
It features several data connections enabling users to download the files to their own electronic devices, including Kting. Beijing Oriental Vision provided the community center with over 20 of its Kting audio players.
As is shown by the back-end data, users have tapped the screen 8,634 times and downloaded 3,367 files in the first half of 2013. While on another machine at a community center in nearby Desheng Street, the taps and downloads reached twice those figures.
"Our next step is to enhance the publicizing and make more residents benefit from the audio library," the administrator said.
User friendly
The machine is much favored by the users. Wang Yunlong has formed a habit of listening to audio books for 20 minutes a day and is very interested in health news.
"I could even listen to the books while I am taking a walk. It's convenient," the man said.
Furthermore, the audio library offers user-oriented services to meet the demands of different groups. For example, the machine in Wang's community was uploaded audio of pingshu, a Chinese traditional art form of storytelling, after local residents expressed their needs.
Children also patronize audio libraries. The machine dispenses songs like Little Swallow and Selling Newspapers to kids on summer vacation.
Dozens of audio libraries are being distributed to Beijing's residential communities, senior citizens' work committees, book stores, subway stations and airports.
(Source: Beijing Daily)