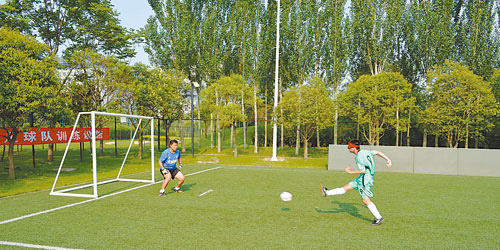 SHOT: Li Yu, a member of Shaanxi Blind Football Team, shoots the ball during a scrimmage (QIN ZHENZI)
He kicks, and ball meets net. Applause rings in his ears, but the 17-year-old player remains still. "It went in?" he asks with a sheepish grin.
A moment later, his teammates' cheers confirm the shot connected.
Li Yu is among seven players of the Shaanxi Blind Football Team selected for intense summer training to prepare for the Fourth National Blind Football Championships in September. Their goal is to make it to the quarterfinals.
Hard establishment
The Xi'an School for the Blind and Mute (XSBM) in northwest China's Shaanxi Province formed the team in 2002. Mathematics, computer science and physical education teachers coach students between 10 and 18 years old. By average age of players, it is the country's youngest football club consisting exclusively of visually impaired players.
Forty-year-old Zhang Yi has been a fervent fan of football for dozens of years. He lost his left arm in an occupational accident in 1996 while cleaning a helicoidal pump as a concrete engineer. He has taught computer science at XSBM since 1998.
While teaching, Zhang noticed that several students would kick plastic bottles filled with sand, amused by the sound they make. More curiously, they listened to the 2012 World Cup matches on the radio with great enthusiasm.
Inspired by these children, Zhang organized the football team in 2002 with little knowledge about the development of blind football playing. They made the footballs themselves by wrapping waste paper in a plastic cloth.
In fact, blind football has already been established in Europe in the early 1990s and was a sport at the 2004 Athens Paralympic Games.
Differing from an ordinary football, the ball is equipped with a device to produce sounds for players to track. The field is much smaller than standard regulation and nominally uses solid boundaries a la indoor soccer.
Having little support from school and the government, the team subsists on meager donations from enterprises and individuals. Players wear hand-me-down "uniforms" and 20-yuan ($3.27) cleats.
The team's first foray into the national championships in 2005 ended in disappointment; they failed to score a single goal.
Coaches learned their lesson and formalized instruction. Zhang watched videos and rehearsed the standard motions, letting his students learn by tracking the movements of his legs and feet with their hands.