BLAMING THE VICTIM: Japanese Prime Minister Shinzo Abe urges guarding against "provocations" amid simmering territorial disputre with China at the National Defense Academy in Yokosuka on March 17 (XINHUA/AFP)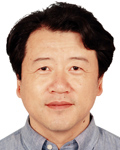 A series of provocative remarks by Japanese Prime Minister Shinzo Abe recently has attracted the attention of people worldwide. On the one hand, Abe has visibly raised his so-called "proactive contribution to peace" theory; on the other hand, the Japanese leader has spared no efforts advocating fears of the "China threat." And in the meantime, Japan not only extended thinly veiled military provocations to China, but also sent 14 percent of its troops for military exercises targeting China. As Abe's China policy is full of increasingly tough rhetoric, it raises a question for everyone: What does Abe really want?
Abe's empire ambitions
Abe's political ambition is an open secret. The hawkish remarks of the Japanese leader are gradually shedding previous disguises, becoming more and more flagrant. In his 2006 best-selling book, Toward a Beautiful Country, published during his first term as prime minister, Abe expounded his ruling ideas of trying to make Japan a "normal country" with the right to collective self-defense and a full-fledged military. After taking office for the second time, Abe reiterated these ideas and called them the cornerstone of his ruling Liberal Democratic Party.
Abe is a typical representative of Japan's right-wing forces. He is even willing to proclaim that he is a spiritual heir of the former Japanese empire. As such, Abe became the handpicked successor of Junichiro Koizumi, who defied the requests of Asian neighbors not to visit the Yasukuni shrine and laid the groundwork for Japan's gradual emergence from its pacifist shell.
As Japan committed itself in the 1980s to becoming a world political power, it has since sought to cast off the restrictions of the postwar system (including the pacifist constitution), which has become a major political objective among Japanese right-wing politicians. The fundamental reason is that the pacifist constitution imposed by Washington has denied Japan's right to develop offensive military forces or to launch wars. But in the eyes of the Japanese rightists, lacking the ability to start wars effectively prevents Japan from realizing the international political power it seeks.
In the 1990s, Japan joined UN peacekeeping missions in order to shape public opinion in relation to its military. However, participating in these UN peacekeeping operations failed to erase the negative reputation of Japan's wartime history. Japan thus altered its strategy by drawing support from the U.S.-Japanese alliance in order to boost its status in regional security. At the end of the 20th century, Japan issued a law aiming to interfere with the affairs of surrounding countries alongside the United States, paving the way for a greater military presence in Japan's expanding political interests in the international arena. But, this underhanded law cannot allow Japan to break away from the constraints of its pacifist constitution.
Now, Abe finally found an opportunity to make Japan an international military power. First, the U.S. "pivot to Asia" strategy has further upgraded Japan's status on the chessboard. The relatively declining influence of the United States also made room for Japan's aggressive strategy. In addition, Abe used the territorial row escalation triggered by Japan's island purchasing farce to push the constitutional amendment and strengthen its military forces.
In a recent interview with U.S. media, Abe openly stated the reason behind the increased military activities, saying that Japan should play a leading role not only in the economic field, but also in regional security of the Asia-Pacific. Clearly, Abe's ambition is to gain regional hegemony just as the U.S. influence is declining.
'Proactive' contribution
How will Japan play its part as a regional "leader" based on military power? In September, Abe coined his latest slogan for Japan's new national security strategy—"proactive contribution to peace"—which he said will be the banner of Japan's strategy in the 21st century and is to be written into Japan's new National Defense Program Guidelines.