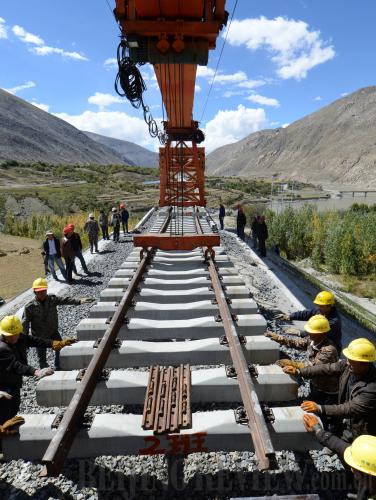 RAPID TRANSIT: Workers lay tracks on the Lhasa-Xigaze Railway, the second railroad in Tibet Autonomous Region, on September 24, 2013 (XINHUA)
Almost eight years ago, the first train rode into Tibet Autonomous Region along the Qinghai-Tibet Railway linking Xining in Qinghai Province and Lhasa in Tibet, which marveled the world as an incredible feat of engineering. Soon, the autonomous region will put its second railway between Lhasa and Xigaze into operation.
The railway will stretch 253 km, crossing over rivers, valleys and mountains.
Designed to travel at a speed of 120 km per hour, trains can cover the distance in a little more than two hours, at least one hour less than the same journey would take in a car, according to Shang Hongwei, the field commander of the China Railway 12th Bureau Group Co. Ltd. The company has been contracted to construct the TJ4 section of the railway, which is 23.76-km long.
Construction of the railway officially started in January 2011. By the end of February, 93.47 percent of its tracks had been laid down. So far, 11.15 billion yuan ($1.81 billion) has been spent, accounting for 83.93 percent of the total budget of 13.28 billion yuan ($2.16 billion).
Shang said that the railroad is scheduled to open to traffic by the end of this September.
With a population of 98,700, Xigaze City, capital of Xigaze Prefecture, is the second largest city in Tibet.
The prefecture ranks first in the autonomous region in terms of agricultural output value, and second in terms of animal husbandry output value, according to official statistics.
The railroad is expected to boost the economy of Xigaze by facilitating two-way cargo and passenger transportation. Local officials also hope the railroad will bring more tourists to Xigaze Prefecture, which is rich in tourism resources.
Xigaze is home to five peaks with altitudes above 8,000 meters, including Qomolangma, also known as Mount Everest, which is only 300 km from Xigaze City. In 2013, it received 2.28 million visitors from home and abroad.
In addition to natural attractions, the prefecture boasts many places of historical interest. It features 341 Tibetan Buddhist temples such as Tashilhunpo Monastery, Sakya Monastery and Palkor Monastery, which are frequently visited by both pilgrims and tourists.
Tashilhunpo Monastery, located in Xigaze City, is the traditional seat of successive Panchen Lamas, who are spiritual leaders of Tibetan Buddhism. It has a history of about 600 years.
About 150 km from the Xigaze City lies Sakya Monastery. Originally built in 1268, it is home to some of the most magnificent surviving artwork in Tibet.
The Palkor Monastery, located 100 km to the east of Xigaze City, is most notable for its chapels, of which there are more than 100.
Moreover, the railroad is also expected to promote foreign trade through improved transportation. Bordering India, Nepal and Bhutan, Xigaze Prefecture has nine land ports. In 2013, its total foreign trade volume reached $188 million.
The Lhasa-Xigaze Railway runs along the part of Qinghai-Tibet Plateau that ranges in elevation from 3,600 to 4,000 meters. Oxygen content in the air is around 65-70 percent of that at sea level.
About 20,000 people participated in the railway's construction, and many construction workers coming from lower land are vulnerable to altitude sickness in Tibet, Shang said.
To ensure workers' access to medical care, 28 clinics were set up on construction sites along the line, and two hospitals in Lhasa and Xigaze cities were contracted to treat sick workers.
According to Zhu Jintang, the field deputy chief engineer of China Railway 12th Bureau Group Co. Ltd., the engineering teams also have to cope with geological challenges. While the major challenge confronting the Qinghai-Tibet Railway was permafrost, the one confronting the Lhasa-Xigaze Railway was very different: geothermal energy.
Geothermal energy can heat the rocks in the tunnels to a temperature as high as 56 degrees Celsius, which can affect the concrete used, Zhu explained.
Solutions to the challenge were found by the China Railway First Survey and Design Institute Group Co. Ltd. The institute suggested using a specific grouting method to insulate rocks from the heat, and cooling the rock temperature down with cold water, ice and ventilation.
Other geological challenges were posed by the mountains and rivers, including the Yarlung Zangbo along the line. To cross these barriers, 29 tunnels and 116 bridges have been built along the railway.
Tunnels can also reduce the railway's impact on the local ecosystem such as nearby wetlands and a black-necked crane nature reserve. To protect the environment, bushes and grass will be planted along the line, Shang said.
Email us at: wanghairong@bjreview.com