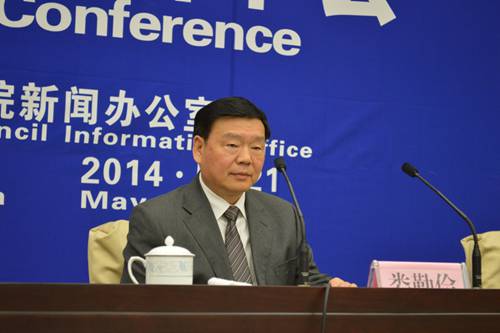 Lou Qinjia, Governor of Shaanxi Province, answers questions at a press conference for the Silk Road Economic Belt in Xi'an on May 21 (BAI SHI)
Cross-border coverage by members of the Chinese media was launched in Xi'an, northwest China's Shaanxi Province, on May 21.
The event, titled "Chinese Media Along the Silk Road," was organized by the State Council Information Office to report on the current economic development and international cooperation along the ancient Silk Road from China's Xi'an to Istanbul in Turkey. Over 10 renowned Chinese media outlets, including Xinhua News Agency, CCTV, China Daily and Beijing Review, attend the event.
Chinese President Xi Jinping proposed building the Silk Road Economic Belt together with neighboring countries during his visit to Kazakhstan last September. The proposal is expected to facilitate communication and cooperation in aspects of transportation, trade, currency and friendship between China and neighboring countries that have had deep links with China in both past and present.
The media coverage will start in Xi'an before gradually moving towards Urumqi in northwest China's Xinjiang Uyghur Autonomous Region. After a stop in Urumqi, the media convoy will cross the border into Kazakhstan then Uzebekstan and finally arrive in Turkey.
 (Reporting from Xi'an, Shaanxi Province)