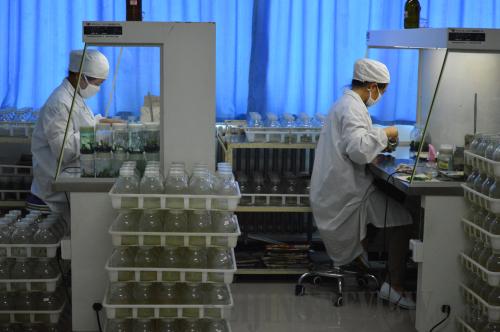 Chinese workers clean bottles for cultivating flower seeds in a Leda Company workshop in Yangling, Shaanxi Province, on May 22 (BAI SHI)
China's achievements in agriculture are arousing the curiosity of many of the Central Asian countries.
Leda Agriculture Technology Company, situated in Yangling, northwest China's Shaanxi Province, has established a foothold in Kyrgyzstan and Kazakhstan on China's western border.
Shao Ge, head of Leda Company, told Beijing Review that Central Asian countries are particularly interested in bringing China's leading technology and managing experience into their countries.
"We have established close relations with partners in Kyrgyzstan for the cultivation of flowers," Yan Xiaoqin, executive director of a local fruit company said. "Such cooperation will be mutually beneficial. We are also working together to improve the pastures for China's livestock farming."
Yangling is the country's only agricultural hi-tech industries demonstration zone. Situated in Xianyang City of Shaanxi, Yangling is expected to drive the agricultural growth in Central Asian countries with its cutting-edge technology, as well as the added benefit of promoting common development and mutual benefits for all countries along the Silk Road Economic Belt.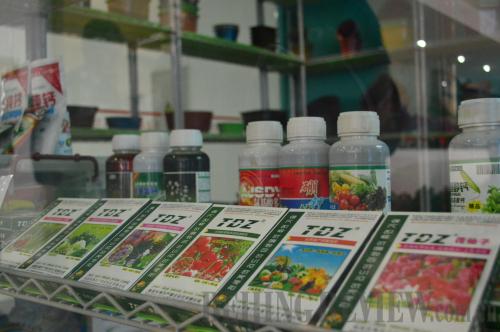 Agricultural products from Leda Company on display in Yangling on May 22 (BAI SHI)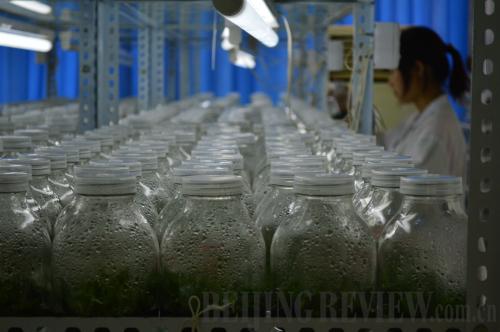 A worker checks seeds for germination at a Leda Company workshop in Yangling on May 22 (BAI SHI)
(Reporting from Yangling, Shaanxi Province)