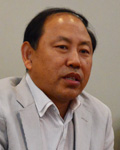 Yang Xiuqing (BAI SHI)
Situated in Dunhuang City in northwest China's Gansu Province, the Mogao Grottoes has a history of 1,600 years. As a world historic heritage sites, it preserves a total of 700 caves with Buddha statutes and murals.
Currently, the Grottoes has had nearly 80 of the caves – which accounts for one fifth of 492 marked caves – digitally mapped, according to Yang Xiuqing, secretary of the Mogao Grottoes Protection Foundation and researcher at Dunhuang Academy.
"Dunhuang Academy is responsible for the protection and research of Mogao Grottoes. We have been exerting every effort to make the protection of this world famous historic heritage better, but Mogao Grottoes is faced with natural degredation as time passes," Yang told Beijing Review at Dunhuang Academy on May 26.
Dunhuang Academy explored making digital models of the Mogao Grottoes caves through recording pictures and 3D data as early as in the 1990s. With rapid development of digital technology in recent years, the protection work speeds up.
"We are building a digital museum in which visitors will be able to see Mogao Grottoes in 3D video. The digital museum will not only help protect grottoes from influence of tourists, such as the carbon dioxide from their breath, but also preserve data from the Mogao Grottoes for future research," Yang said.
"The work is very complicated. First, we have to take high-definition pictures of a cave, and then we make corrections and finally process all the graphic data with a computer," said Yang.
"We have also done a lot of work on developing special software for the task," Yang added.
Dunhuang is an oasis surrounded by desert in northwestern China. It was the only gateway to and from China on the route known as the Silk Road, which linked China, Western Asia and the sub-continent of India.
Because of its unique geographic position, Dunhuang blended and combined ancient Chinese, Indian and Central Asian cultures throughout its history. In particularly, Dunhuang was deeply influenced by Buddhism for hundreds of years in the middle ages.
(Reporting in Dunhuang, Gansu Province)