TRILATERAL TRADE: Representatives from China, South Korea and Japan (right to left) pose for a group photo before the fourth round of negotiations over a three-nation free trade area in Seoul on March 4 (YAO QILIN)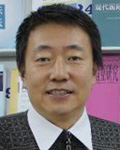 Trade between China and Japan hit a record high of $340 billion in 2010, but has been declining ever since. In 2013, bilateral trade shrank to about $315 billion. It was understandable as a consequence of disputes over the Diaoyu Islands; yet it still was an unusual state between two political and economic powers with close ties. Decreasing economic cooperation will end up damaging both sides. Leaders of China and Japan should seriously consider how to manage the economic relationship between the two countries, and what policy should be adopted.
Rethinking the standoff
In an economic confrontation, the country with less economic strength always loses more than the one with a stronger economy. China and Japan are likely of equal economic strength. Although China's GDP has doubled that of Japan's, it still relies on Japan in fields like investment, advanced technology and equipment. On the flip side, Japan relies heavily on China's huge market. Any economic confrontation between them inevitably will result in a no-win situation. Major countries in the world are devoted to developing their economies while promoting connections between each other so as to increase economic cooperation. Against this backdrop, if China and Japan continue confronting each other economically, they are sure to fall behind other countries' economic development and the world's globalization process.
The Diaoyu Islands issue is unlikely to be resolved anytime soon. Considering the stubbornness of territorial conflicts, China and Japan's economic confrontation will continue into the long term if they choose it as a method to deal with disputes over the islands. A full conflict between China and Japan, including economic confrontation, would be simply irrational and unproductive.
Economic sanctions are effective only when there is a wide gap between the countries' economic strength. If the two countries sanctioning each other are of equal strength, they can easily find substitute products or markets. For example, China can import more hi-tech products it needs from Europe and the United States, while Japan can enlarge exports and investment to ASEAN countries. In the event of failed sanctions, both sides face a lose-lose situation.
Abenomics, the economic stimulus policy that Japanese Prime Minister Shinzo Abe is implementing, is running into a dead end. Large-scale quantitative easing, bold public investment and the depreciation of the Japanese yen have stimulated Japan's economy so intensely that it may bring about a serious economic imbalance if these policies continue. Meanwhile, China's economic slowdown is also threatening the country's healthy development. Under these circumstances, China and Japan must adjust or abandon their mutually contradictory economic policies, for their own benefit and development.
In fact, Japan's tactic of exploring the Indian market as a replacement for China has had lackluster results, in part because Japanese investors frequently encounter obstacles in the Indian market, which is not nearly as mature as China's. The situation in the ASEAN market is only slightly better. However, instability in ASEAN nations caused by corruption and internal turbulence is not beneficial for Japanese investors, who can always gain enormous profits in China.