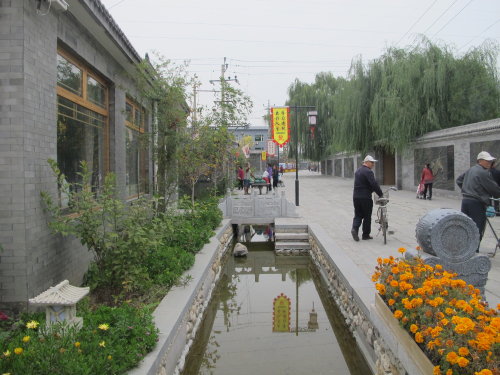 The recently renovated main street of Fangezhuang Village in Huairou District
Tackling pollution
Crisscrossed by 17 rivers, Huairou is rich in water resources. Around 97.2 percent of the districtís land is under protection to preserve water quality. To keep water clean, Huairouís environmental protection bureau has tackled pollution at its source and imposed fines on enterprises violating sewage discharge standards.
The Yanqi River feeds into the districtís Yanqi Lake. In the riverís basin lie seven villages with 86 food and lodging businesses. Currently, sewage treatment facilities are being installed for these businesses and the villages.
Chuangu Resort is located in the woods at the foot of a hill in Baiyachuang Village, right on the bank of the Yanqi River. At the end of May, the resort installed and put into operation two sewage treatment facilities, one to treat waste water from guestrooms and the other to treat waste water from its dining services.
ìAfter the equipment was put into operation, the oil stains on the river surface disappeared. Water quality has improved, algal blooms are a thing of the past and other water plants are growing healthily,î said Yu Zhongchen, a manager of the resort.
The resort can accommodate 400-500 persons every day during peak season. The two facilities can now treat a total of 30 tons of waster water daily. Yu said that the two facilities cost 260,000 yuan ($42,600) in total, half of which was covered by the local environmental protection bureau.
ìAs sewage water flows into the facilities, they automatically turn on. The environmental protection bureau also monitors their operation online, and violators will be imposed a fine, which has no ceiling,î said Zhao Jiuwang, Deputy Director of Huairou District Environmental Protection Bureau.
Industrial upgrades
With grey tiles and white walls, houses in Shichang Village bear a primitive simplicity and refreshingly cleanness. The village also has parks and sports facilities.
Before this year, the village looked vastly different. Back then, a large number of small stores and workshops processing stone products clustered there, and unauthorized structures lined the streets, making the environment dirty and disorderly.
To present a better face during APEC, over the past year or so, Huairou launched a special campaign to regulate businesses processing and trading aluminum alloy, stone materials and automobile accessories, as well as carwashes and maintenance shops. The areaís environment has improved remarkably. On February 28, after the last factory in the village was demolished, the villageóplanted with green trees and flowersóturned into an alluring place.
Moreover, the businesses there have further standardized and upgraded their operations. For instance, many carwashes have introduced modern carwash equipment. ìAfter the special regulatory campaign, the number of carwashes has dropped from 20 to 12,î said Song Chen, Deputy Director of the Huairou Administration for Industry and Commerce. He said that those that have upgraded their equipment now see more customers.
Huaruili Carwash is among those that upgraded. With an investment of 500,000 yuan ($80,000), it purchased an automatic carwash system with a can filter and recycled water. The carwashís owner said that the new equipment can save up to 70 percent of their water.
While promoting industrial upgrades, the local government has also beefed up routine inspections to prevent and control illegal operations.