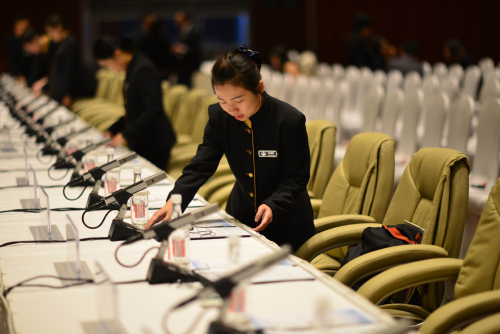 Staff members prepare the conference room for a trial-run of the APEC meeting to be held in the Beijing Intercontinental Hotel
Protecting the environment
Air quality during APEC week is a top concern for Beijingís mayor. He urged meteorological and environmental departments to work together to ensure good air quality during the meeting.
Once heavy air pollution is predicted, the city will recommend emission-cutting measures and enforce mandatory measures if necessary, Wang said. He said that early warnings about air pollution should be released to the public in a timely manner, and all social sectors should work together to tackle air pollution.
The Beijing Meteorological Bureau and the National Meteorological Center under the China Meteorological Administration have established an expert group to step up the frequency of weather and air pollution forecast.
During APEC week, automobiles with odd or even license plate numbers will be allowed to drive on streets on alternative days, and 70 percent of the public-owned vehicles in Beijingís municipal government organizations, public institutions and state-owned-enterprises will be taken off the road. Vehicles with non-Beijing license plates will have their entry restricted, while vehicles transporting construction waste and hazardous chemicals will be banned from the streets. About 400 additional buses will be put into service.
As part of the efforts to alleviate pressure on air and road traffic, employees in national and municipal government organizations and public institutions in Beijing will have six days off during the meeting.
In addition, the municipal government has also taken measures to make the city brighter. A total of 524,000 trees have been added in the Yanqi Eco-Development Demonstration Zone, and the afforestation rate on the islet has reached 77.51 percent. In addition, 185,000 trees and 73,000 shrubs have been planted along the highways leading to the main APEC meeting venues.
In Beijing, the leaves of deciduous trees usually begin to fall at the end of October and early November. To sustain the beautiful autumn scenery through the end of APEC week, Beijingís gardening authority has instituted special landscape design and plant cultivation.
Evergreen trees such as pines and cypresses have been planted alongside cold-resistant grass and deciduous trees whose leaves turn yellow or red in autumn. Thus, trees on the road side will display a dazzling array of colors during the APEC Economic Leadersí Week.
Garden workers will also adjust their watering and fertilization frequencies to keep leaves on the trees for about 10 days longer than usual.
In addition, blooming flower beds will be placed beside sections of roads leading to the major APEC meeting venue in Yanqi Lake and along Changían Avenue in downtown Beijing.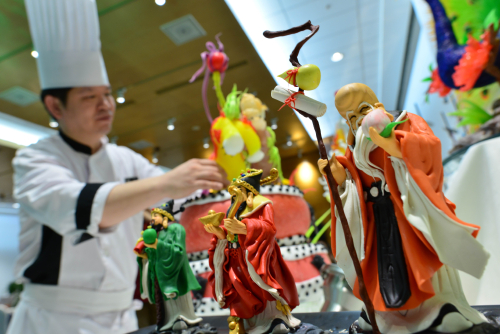 Colorful figurines made of flour are on display during a rehearsal for an APEC meeting
Hospitable locals
With the APEC meetings under way, Fangezhuang, a small village in Huairou, is rising in prominence thanks to its proximity to the main meeting venue.
Fangezhuang lies on the bank of Yanqi Lake. In the past year, it has transformed into a charming waterfront town.
An artificial river was dug alongside the main street of the village and water was channeled in from the nearby Yanqi Lake to produce waterfront scenery.
Houses along the main streets have been renovated into tea houses, restaurants and boutique shops. Snacks from various parts of China are served on the streets, as well as coffee, barbecue and beers. Stone mills, old-fashioned wells and statues give people a taste of the villageís past.
The villageís orchard has also acquired a wider variety of scenery than before. Pavilions, artificial hills and wooden chairs have been added to make it the perfect place for leisurely relaxation.
Huairou District has also taken efforts to help its residents in being good hosts. The district government offered lectures and distributed booklets and compact disks to inform its residents about etiquette and information on APEC.
During the APEC Economic Leadersí Week, volunteers will be stationed at the main meeting venue and major road sections nearby to provide language and other information services to visitors.