Cooperation on global value chains will greatly speed up economic integration in the Asia-Pacific region and lay a solid foundation for building a high-standard free trade area, an official from China's Ministry of Commerce (MOFCOM) said at a press conference on November 7.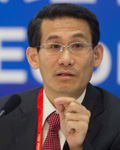 "The core contents of the APEC Strategic Blueprint for Promoting Global Value Chains Development and Cooperation as well as the Strategic Framework on Measurement of APEC Trade in Value-added Under Global Value Chains will be included in this year's joint declaration of APEC economic leaders," said Shen Danyang, a spokesman for the MOFCOM. The two proposals were adopted at the APEC trade ministers' meeting in Qingdao, east China's Shandong Province in May.
Global value chains include the full range of activities that are required to bring a product from its conception to its end use and beyond (e.g. design, production, distribution). Global value chains play an important role in the international trading system. Today, around 80 percent of world trade is conducted through networks of global value chains.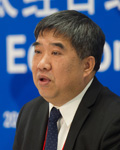 "Global value chains have emerged and further developed in the Asia-Pacific region," said Lin Guijun, Vice President of University of International Business and Economics, at the press conference. The region boasts the world's largest global production network, with the United States, the world's largest "headquarters economy," and China, the largest "factory economy."
Interdependence on global value chains among APEC member economies is also high. The U.S. dependence ratio on China's value chain has risen to 19 percent, higher than its 13-percent dependence ratio on the EU value chain, according to Lin.
But development of global value chains in the Asia-Pacific region faces challenges, such as a lack of intergovernmental top-level governance and participation of developing economies and raw material-producing economies, Lin said. "Development of global value chains in the Asia-Pacific region has shown signs of slowdown."
Lin suggested APEC member economies cooperate in maintaining stability of the global value chain, future lowering trade transaction costs on the value chain and facilitating transformation. "These need the support of a trade policy targeting the global value chain reform, including reducing the import tariff of intermediary and finished products, simplifying the rules of origin, improving business and market environments, and strengthening IPR protection," said Lin.