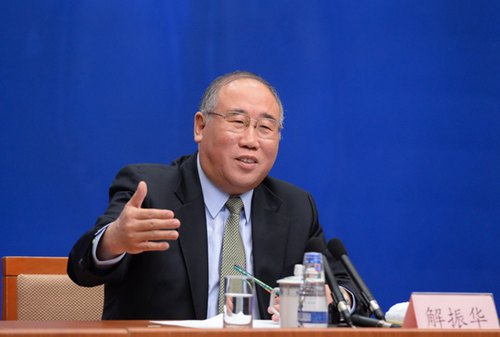 Xie Zhenhua (COURTESY OF NATIONAL DEVELOPMENT AND REFORM COMMISSION)
Presenter: Xie Zhenhua, vice minister of the National Development and Reform Commission
Place: State Council Information Office (SCIO)
Date: November 25
Friends from the media, good morning. Welcome to the launch event of China's Policies and Actions for Addressing Climate Change (2014). We gather here today mainly to issue the report. The annual report is to introduce China's actions and achievements regarding addressing climate change every year.
Today we will focus on China's actions [on addressing climate change] as well as introduce China's positions on the multilateral process, since the Chinese delegation is about to leave for Lima, and the upcoming conference has received much media attention.
The Chinese Government is highly attentive to climate change. China has fulfilled its promises according to the conventions and requirements of each conference. On May 16, the Chinese Government approved the Kyoto Protocol Amendment, which establishes the second commitment period, enabling it to take effect. In order to achieve the goal of reducing 40 to 45 percent of carbon intensity by 2020, by 2013 China's CO2 emissions per unit of per capita GDP had already been reduced by 28.56 percent from 2005 levels. In the first three quarters this year, China's energy consumption intensity and carbon intensity further dropped: the former by 4.6 percent year on year and the latter by five percent. The amount of forested area has already surpassed the target set out in the Twelfth Five-Year Plan. Non-fossil fuel energy accounts for 9.8 percent of China's primary energy consumption. China is also working to adapt to climate change. The country's ability to adapt to climate change has been enhanced in agriculture, forestry, water, ocean conservation, and meteorology. 42 provinces and cities that have been chosen to conduct low carbon pilot programs are carrying out their work smoothly, and they have made basic explorations into how to develop low carbon models that fit their unique characteristics. Seven provinces and cities are carrying out carbon trading pilot programs; 13.75 million tons of CO2 worth more than 500 million yuan have been traded as of October, 2014, and progress in this area is also quite smooth. In addition, China issued the National Plan on Addressing Climate Change (2014-2020) on September 19, enhancing the top-level plans to respond to climate change. In June, we carried out a "National Low Carbon Day" educational awareness-raising activity, involving a wider public in the response to climate change. These are the actions we have adopted and achievement we have reached this year, demonstrating our resolve in addressing climate change with practical action.
China has also made a vigorous effort to facilitate "South-South cooperation" in addressing climate change. China has devoted 270 million yuan since 2011 to help developing countries enhance their capacity to address climate change, and trained nearly 2,000 climate change officials and professionals from developing countries. Vice Premier Zhang Gaoli said at the UN Climate Summit on September 23 that China will vigorously advance South-South cooperation in climate change and double its annual financial support for the establishment of the South-South Cooperation Fund on Climate Change starting next year.
China and the United States issued a China-U.S. Joint Announcement on Climate Change on November 12, announcing their respective objectives for action addressing climate change after 2020. In the meantime, the two counties have also pledged to carry out a series of collaborative programs in low carbon development, environmental protection, clean energy and other fields, showcasing China's resolve to accelerate low carbon development and make more contributions to addressing climate change. We will continue to hold onto the attitude of taking responsibility for the well-being of the Chinese people and the long-term development of all humankind, actively addressing climate change, shouldering international obligations that are in line with China's current development, abilities and due responsibility and making active contributions to the protection of the global climate and environment. Now Mr. Su and I are delighted to answer your questions. Thank you.
(Source: China.org.cn)