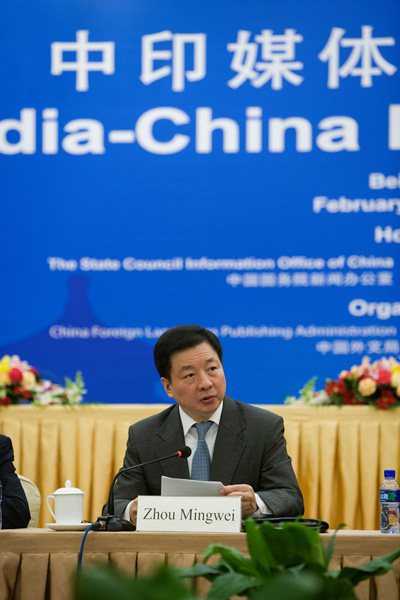 Zhou Mingwei, President of China International Publishing Group, delivers a speech at the closing ceremony of the Second India-China Media Forum in Beijing on February 1 (WANG XIANG)
Remarks at the Closing Ceremony of the Second India-China Media Forum
Zhou Mingwei
President of China International Publishing Group
February 1, 2015
Distinguished guests, Dear colleagues, Ladies and gentlemen,
The Second India-China Media Forum is about to draw to a close after a day's productive discussions. On behalf of the organizers I wish to take this opportunity to extend my heartfelt gratitude to you all for your presence and your insightful views expressed during the discussions. In particular, I'd like to thank our Indian friends who have traveled to China for the forum. The second forum, held more than a year after the first one, has allowed us to further enhance mutual understanding, deepen friendship and reach a host of new agreements.
Minister Jiang Jianguo of the State Council Information Office of China and External Affairs Minister Sushma Swaraj of India both pointed out in their speeches this morning that as the two countries step up their efforts to build a strategic partnership, media organizations shoulder social and historical responsibilities to bolster understanding and friendship between the Chinese and the Indians, promote the development of bilateral relations and safeguard regional peace and development. It is hoped that media organizations will play a pivotal role in cementing friendly ties between the two countries by keeping in close touch and more effectively collaborating with each other.
Given the differences in terms of social systems, cultural traditions and media development, China and India hold divergent views on the media's responsibility for the development of bilateral relations, media operation models and the media's social responsibility. Delegates from both countries, however, were able to address problems and disputes in a realistic and frank manner in keeping with the principle of seeking common ground while shelving differences. A lively and amicable atmosphere prevailed at the forum.
It's easy to see that both sides are eager to know each other and better understand and appreciate each other's insights. Both are also eager to innovatively grasp the common goal and find more avenues for the form and content of the cooperation.
The problems we are encountering are getting increasingly similar in this shrinking global village. Whether consciously or not, we are having more and more in common, rather than the other way around. That's one of the reasons why we have more confidence in the development of bilateral relations.
Dear colleagues and friends,
As the world's two largest developing countries and major emerging economies, China and India share common interests in regional and global issues such as regional economic integration, connectivity, regional stability, environmental protection and the international economic order. President Xi said, "Both China and India are important poles in the world and share a number of strategic integrating points. If China and India speak with one voice, the whole world will listen; and if China and India join hands in cooperation, the whole world will watch. Whether from a bilateral, regional or global perspective, China and India are long-term strategic cooperative partners instead of competing adversaries."
We are delighted to see that media organizations in China and India have made positive contributions to the rapid development of bilateral ties and become a major driving force behind. At the World Media Summit Global Awards for Excellence 2014 ceremony held a few days ago in Beijing, Sainath Palagummi from The Hindu was presented the Award for Exemplary News Professionals in Developing Countries. Also, the Outlook India magazine won a favorable mention for the Award for Exemplary News Teams in Developing Countries. In a sense, these facts are evidence that Chinese and Indian media professionals have the potential and capacity to promote the progress of their respective countries as well as the sound development of bilateral relations. They also show that our efforts are gaining recognition from an increasing number of people.
Dear friends,
The India-China Media Forum has evolved into a regular platform for exchanges over the past nearly two years. Initial progress has been made in promoting personnel exchanges and information sharing between Chinese and Indian media organizations. At the same time, we should be keenly aware that our mutual understanding still falls far short of demand at a time when bilateral ties are thriving. It is imperative that we devote more effort and greater wisdom to expanding China-India media cooperation.
In light of the future development of the India-China Media Forum, we propose that Chinese and Indian media organizations strengthen regular dialogue and communication, foster sensible and objective perceptions of each other, and present out China and India truthfully to their respective domestic audiences.
In particular, media organizations should strengthen their communication, coordination and cooperation during emergencies and important events. Both countries should station more journalists in each other's countries, pursue more cooperative projects in news reporting, content production and personnel exchanges, as well as reflect on the effect upon media brought by the traditional and modern culture, development of the culture industry, and change of the social structure.
As China's oldest and largest specialized international communication institution, China International Publishing Group (CIPG) is willing to play a bigger role in and make greater contributions to media cooperation and exchanges between China and India.
I'd like to thank you again for your hard work and insights that have made this forum a success. I hope the "China-India strategic and cooperative partnership for peace and prosperity" continues to enjoy stable and healthy development. It is also my wish that Chinese and Indian media organizations will make greater constructive contributions to the growth of bilateral ties.
Thank you!