The National People's Congress (NPC) and the National Committee of the Chinese People's Political Consultative Conference (CPPCC) held their annual national sessions in Beijing between March 5-15 and March 3-13, respectively. These were the third plenary sessions for the 12th NPC and the 12th CPPCC, both started their five-year term in 2013.
The NPC deputies are elected by people's congresses from China's provinces, autonomous regions and municipalities directly under the Central Government. At the annual NPC sessions, deputies represent all Chinese people in making decisions on state affairs. Members of the CPPCC National Committee, the highest advisory body to the Chinese Government, have been chosen from the Communist Party of China and other parties, organizations, ethnic groups, and various sectors of society.
Reporters from home and abroad covered the sessions intensively. Beijing Review selects the following photos to recap the annual sessions.
LEGAL REVISION: The Law Committee of the 12th National People's Congress holds a meeting to deliberate on the draft revision to the Legislation Law in Beijing on March 11 (SHEN BOHAN)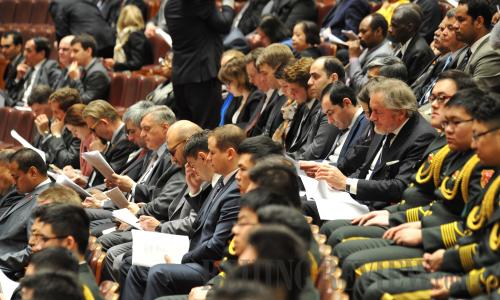 FOREIGN GUESTS: Foreign diplomats are invited to sit in on the opening ceremony of the annual session of the CPPCC National Committee, on March 3 (SHI GANG)
"HALF OF THE SKY": A CPPCC National Committee member sings a song for other members after the day's meeting on March 7, one day before International Women's Day (LI HE)
LET'S START: A reporter uses a selfie stick and cellphone to interview a fellow journalist on March 6. Selfie sticks have been popular with reporters covering the annual NPC and CPPCC National Committee sessions (SHEN BOHAN)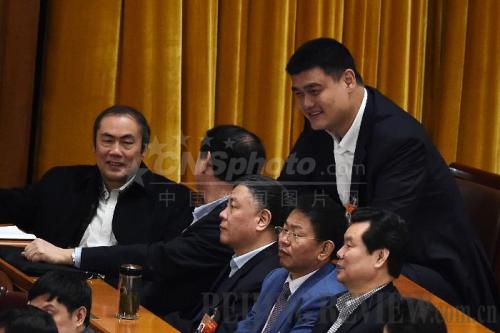 EXCHANGING VIEWS: Yao Ming, former basketball star, talks with other members during the annual session of the CPPCC National Committee on March 10 (ZHAI YUJIA)