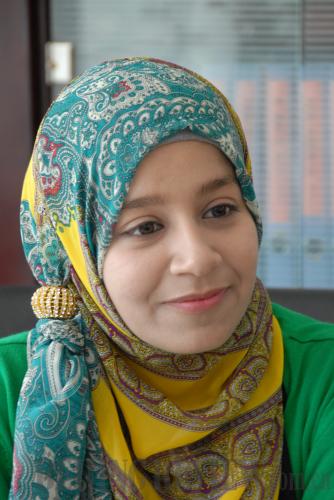 Shereen Maniar Muhammed,an Arabic translator for Ningxia Television (AYAKO KATSUMATA)
One of the guidelines by which many Muslim women live is to not expose the hair in public--more specifically, to mixed company. Covering the hair with a hijab, or headscarf, may sound like it may make one's life dull. After all, wouldn't that kind of rule restrict women from pursuing beauty and individual style?
Muslim women will tell you no. They find their head coverings a point of fashion and have come up with several ways to wear their scarves.
The two Muslim women I met in Ningxia are valid examples.
One is a Hui Chinese who works at an IT company as a receptionist. She wears a salmon pink scarf made from thin and light fabrics. The scarf has covered her hair completely, draping over her shoulders and almost covering the upper body. Because of its color and texture, the scarf adds a refreshing touch to her appearance.
The other is an Arabic translator for Ningxia Television who comes from Iraq. She chooses to wear her scarf by tying a knot at one end of the scarf, making the knot hang on the side of the face. The knot is decorated with a circle-shaped accessory, near which also lies a pin. The accessory and the pin are of similar style with sparkling beads, giving her a splendid appearance. Without breaking the religious law, she satisfies her personal style.
Beauty is a common pursuit of mankind, while constraints are often the source of creativity rather than restriction.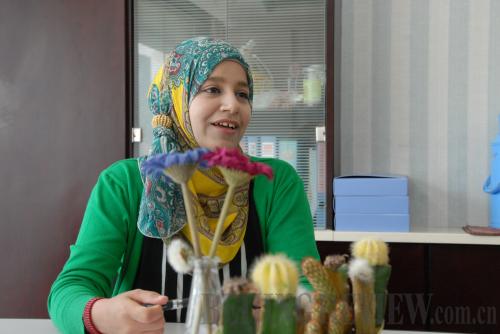 Shereen Maniar Muhammed(AYAKO KATSUMATA)