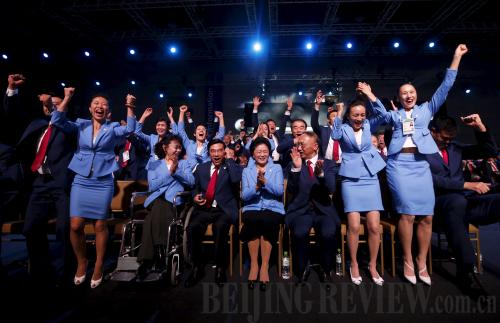 Vice Premier Liu Yandong (fifth right, front) celebrates along with other members of the Chinese delegation after Beijing won the bid to host the 2022 Winter Olympics at the 128th Session of the International Olympic Committee in Kuala Lumpur, Malaysia, on July 31 (CFP)
Beijing has won the bid to host the XXIV Olympic Winter Games to be held in 2022.
International Olympic Committee (IOC) President Thomas Bach announced this following a vote at the 128th Session of the IOC in Kuala Lumpur, Malaysia, on July 31.
A total of 85 IOC members cast their ballots after Beijing and its competitor Almaty, Kazakhstan, made their presentations. Beijing beat Almaty by 44 votes to 40 with one abstention.
The Chinese team of presenters, led by Vice Premier Liu Yandong, included Beijing Mayor Wang Anshun, former NBA star Yao Ming, and Yang Yang, China's first Winter Olympics gold medalist and an IOC member.
President Xi Jinping had also expressed Chinese people's passion for the Winter Games in a video message during Beijing's presentation.
"The 2022 Olympic Winter Games, if held in China, will boost exchanges and mutual understanding between the Chinese and other civilizations of the world, encourage more than 1.3 billion Chinese to engage in winter sports with interest and passion, and give them yet another opportunity to help advance the Olympic movement and promote the Olympic spirit," Xi said.
With this successful bid, Beijing becomes the first city to host both the Summer and Winter Olympics. The legacy from the 2008 Games, including showpiece venues such as the Bird's Nest and the Water Cube, and experience will help the Chinese capital honor its promise once again.
Beijing announced its bid in November 2013 along with Zhangjiakou in neighboring Hebei Province and was selected as one of the three candidate cities by the IOC's Executive Board in July 2014. Later that year, Oslo, Norway's capital, withdrew its candidacy, leaving only Beijing and Almaty in the bidding race.