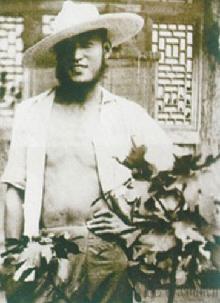 Bai Yihua (FILE)
Born into a peasant family in northeast China's Liaoning Province, Bai Yihua (1911-1941) pursued his studies in university and joined the Communist Party of China at the age of 19.
Bai returned to his hometown in 1932 with a burning desire to save the nation in the aftermath of the September 18 Incident--a rail bombing in 1931 that Japan used to justify its invasion of northeast China. He managed to form a volunteer army with more than 3,000 locals to fight back against Japanese invaders.
As a brilliant general and scholar who relinquished the pen in favor of the sword, Bai was given the name "Little White Dragon" as an acknowledgement of his agility in commanding the army and his glorious achievements in battle. Unfortunately, he was killed in action on February 4, 1941 at the age of 30, by which time he had reached the rank of colonel.
(Source: The Beijing Times)