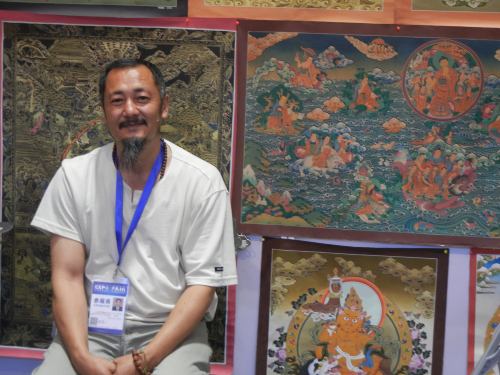 Tanka Bahadur Bal Tamang, whose ancestors are from Tibet, grooms young Nepalis to continue the art form that is said to have been first spread by monks from Tibet (Sedeshna Sarkar)
On a slow, sleepy Saturday afternoon, Tasi Lama had just finished a leisurely lunch and was going to wash his hands when the ground under his feet started shaking violently. Objects began to hurtle down from overhead and rising above the crashes, he could hear a crescendo of terrified screams all around him.
Several months later, the painter from Nepal's Kathmandu Valley remembers that day more vividly than his wedding day or the birth of his son.
It was April 25 on the day an earthquake cut a swathe through Nepal, the former Himalayan kingdom tucked out of sight between its giant neighbors China and India, 81 years after a similar calamity.
The killer quake and aftershocks that continued for more than a month afterward killed over 8,000 people, razed thousands of houses, and ravaged an economy already damaged by a 10-year insurgency and decades of political instability.
It was also of consequence for the ancient art style Nepali painters such as Lama have been practicing for generations. "We left our homes and lived in the open fields outside the city, under tarpaulins, for a month," Lama said. "Many of the houses, built of mud and bricks, were in ruins and the aftershocks continued, though less frequently. One day, I went to my showroom to get some of the paintings out and the Earth started shaking again. I dropped everything and ran out for my life."
Dinesh Lama, a 32-year-old artist from Nepal's capital city, Kathmandu, said his Boudha Stupa Thangka Center, which functions as his showroom as well as his studio, has remained shut since the temblor, as his artisans are too traumatized to take up the brush again. "We lived in makeshift tents for more than a month," he said. "Now, when they try to sit inside the studio and paint, fear makes their hands shake."
A time-honored art
Generations of Nepali artists have pursued Thangka, an intricate and sacred art that was born in the monasteries of Tibet and spread to countries where Buddhism is practiced--Nepal, Sikkim, India, Mongolia and even parts of Russia. Thangka literally means "recorded message." Thangka paintings evolved from murals drawn by monks to pray or teach the tenets of their religion. The paintings found in the Mogao Caves in Gansu Province in northwest China, or the Ajanta Caves in west India, or the newly discovered caves in Nepal's northern Mustang District, are the precursors of the Thangka paintings.
Tanka Bahadur Bal Tamang, a 41-year-old Thangka artist from Kathmandu Valley, describes how the art came to Nepal: "When the Tibetan monks traveled outside their monasteries, they needed to carry replicas of the images of their deities for their rituals. They found extraordinary craftsmen in Nepal and gave them silk bales to replicate the paintings because then the paintings could be rolled up like scrolls and be made easy to carry. The earlier canvases were made of animal hide and were heavy and difficult to carry. So they were replaced with silk. But painters still use a glue made from animal skin, which is why the paintings exude a faint smell of hide."
The subjects of the Thangkas are all religious: depiction of Buddhist deities, the various stages in the life of the Buddha, the cycle of birth, life and death to which the unenlightened are bound, and myths. Their scale varies between being poster-sized to mammoth compositions covering entire walls. A single Thangka may take between three months to several years with the master painter doing the important figures and his apprentices filling in the rest, just as the master painters in Renaissance Italy worked. Some of the elaborate Thangkas use 24-carat gold melted down and added to paint, creating a dazzling golden effect. The paintings are an essential part of the daily lives of many Buddhists, used for prayers, death rituals and other occasions.
As fate would have it, the original inhabitants of Kathmandu Valley were a community called the Newars, famed for their extraordinary artistic skills. Newar craftsmen painted, made exquisite pottery, worked with wood, metals including silver and gold, and precious stones. They embraced Thangka painting, adding local touches and giving the style a local moniker--pauva paintings. One clan in the community were intrepid traders and they traveled along the ancient Silk Road as well as the Salt Route, carrying the Thangka culture farther.
As the Thangka evolved in Nepal, remarkably, the only other community to practice the art exclusively were the Tamangs. It is almost as if the art form called out to their blood and DNA as the Tamangs are said to be descended from Tibetans. Most Tamangs have the family name Lama, signifying they are the descendants of monks or priests. Tamang, who runs a Thangka school and showroom in Kathmandu Valley called Manjushree Thangka, said his forefathers came from Tibet and settled down in Nepal. A fluent Chinese speaker, Tamang teaches the art to young apprentices in Kathmandu Valley as well as to aficionados in Japan. In the course of its wandering around the world, the art has assimilated different elements from various host countries, becoming a diversified and yet unique art form.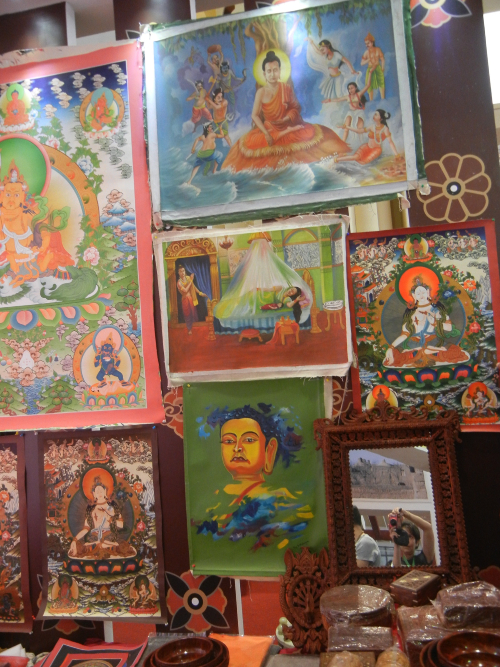 Thangkas portray religious subjects, with the depiction of the Buddha's life and teachings serving as a major source of inspiration (Sedeshna Sarkar)
Back home
And now, the art form that originated in China is looking to its motherland for succor in its hour of need.
"Thangkas are expensive," Tamang said. "They are made by hand and a complex image may take up to a year, costing about 10,000 yuan ($1,610). In the past, Europe was our best market but since 2002, Europe's economy has slowed down."
Since 2014, Tamang and other Thangka painters have been looking to China, as a new market that could potentially bail out the art form from which they derive their livelihood, especially with the boom in the construction of museums and hotels and the rise of billionaires in China interested in purchasing art. Tamang first visited Beijing in 2006 to test the water. Since then, he has made over 50 trips. He makes it a point to attend the China-South Asia Expo in Kunming in southwest China's Yunnan Province, to make contact with buyers and to effect word-of-mouth publicity.
Tasi Lama visited China in June for the first time to find a new market. After the expo in Kunming, he is coming to Beijing in September to hold an exhibition of his Thangkas. Meanwhile, emulating the experience of traders on the ancient Silk Road, he has been putting down roots in China. His son Vimpa, who lives in Xi'an, the capital of Shaanxi Province in northwest China, fell in love with a local girl and now they are married. Vimpa speaks fluent Chinese while his wife Susan can converse with her mother-in-law in Nepali. Dinesh Lama first came to Kunming in 2010 to advertise his Thangka center and now is a regular at the expo. He has found a patron in China and is banking on the new market.
In addition to forging business connections, Tamang said he has been receiving a lot of appreciation in China. "The Chinese are very happy with our paintings for another reason," he said. "They tell me, 'Kudos, you have preserved our ancient art legacy?'."
The author is an editorial consultant for Chinafrica magazine
Copyedited by Kylee McIntyre
Comments to yanwei@bjreview.com