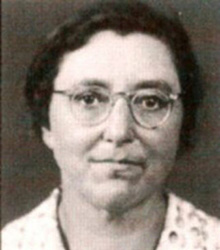 (FILE)
U.S. missionary Minnie Vautrin (1886-1941) set up refugee camps at Jinling Women's College during the Nanjing Massacre, helping to save the lives of 10,000 women and children. She was affectionately referred to as the "Goddess of Mercy."
Vautrin came to China as a missionary and teacher in 1912 and was working as the acting dean at the college when Japanese armies occupied Nanjing in 1937.
She and other foreigners, including German businessman John Rabe, stayed in the city and established the Nanjing Safety Zone to protect civilians in makeshift refugee camps.
Jinling Women's College served as a refugee haven, harboring up to 10,000 women in buildings designed to accommodate between 200 and 300 people. Since the majority of civilians sheltered were women, Japanese troops frequently haunted the college and attempted to rape the women inside.
Vautrin guarded the college with the motto: "Whoever wants to go through this gate will have to do so over my dead body."
From August 12, 1937, to April 1940, Vautrin kept a daily diary, recording war crimes committed by Japanese troops in Nanjing. She returned to the United States for medical treatment on May 14, 1940 and committed suicide a year later. The documents and photos she collected, together with her diary, are important historical materials on the Nanjing Massacre.
(Source: Chinadaily.com.cn)