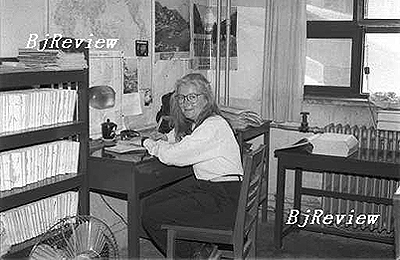 Donna Maloney, copy editor in Beijing Review's International Department in 1989
New country, new city, new colleagues. New life.
That was Beijing in September of 1989 when we arrived to become English-language polishers at Beijing Review. It was not the most auspicious of times, just three months after the Tiananmen "event." But-typical of journalists-we were curious and willing to put our Canadian careers on hold in order to get an inside look at the Chinese news media and life in the capital city.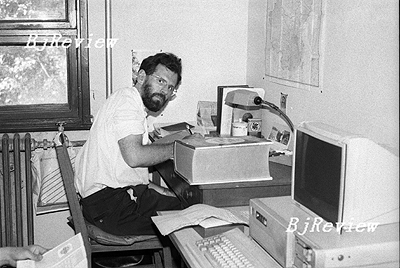 Fred Edwards working on Beijing Review's North America Edition in 1989
Our jobs involved editing the magazine's articles so that they sounded natural in English. Many of them had originally been written in Chinese and then translated into English by native Chinese speakers. Others, such as those produced in the North American section, were written directly in English, but the writers were Chinese, most of whom had never been out of the country. So it was hardly surprising that some of the language was stilted and unnatural. Besides this rather technical and specific work, we also acted as general language consultants and resource persons for staff members interested in improving their English and their knowledge of North American journalism.
At the time, Beijing Review had three English language polishers. Donna worked in the international section, where she handled articles on foreign affairs. Fred was in the North American section, which focussed on bilateral Chinese-North American relations. Our American colleague Joe Ureneck, who had studied Mandarin and could communicate well with the Chinese staff, edited domestic news in the Chinese section. There also were Japanese, French, Spanish and German editions with their own polishers. This gave the office-and the Friendship Hotel where most of the "foreign experts" lived-a surprisingly international and cosmopolitan character.
While most of our days passed uneventfully at our desks as we tried to puzzle out the often eccentric English of our colleagues-all the while keeping in mind the political sensitivity of the post-Tiananmen period-there were frequent and surprising breaks in the daily routine.
One afternoon in November we were invited to a ceremony at the Great Hall of the People to mark the anniversary of the death of the Canadian doctor Norman Bethune, who had died of blood-poisoning while serving with the Communist forces in the War of Resistance Against Japanese Aggression (1937-45). A driver picked us up at the hotel after lunch and whisked us downtown, where we joined other Canadians and several hundred young PLA soldiers in the audience.
Unexpectedly-at least by us-Party General Secretary Jiang Zemin, who had just been appointed chairman of the Central Military Commission, came on stage with other senior officials, including Li Ruihuan, a member of the Standing Committee of the Political Bureau of the CPC Central Committee. Li then gave a speech emphasizing the importance of continuing and deepening the policy of "gaige kaifang" (reform and opening up), one of the earliest and clearest signals that China did not intend to revert to a conservative and isolationist policy after Tiananmen.
This was, in fact, our third trip to the Great Hall of the People in just three months in Beijing. We were constantly being taken places-to the Forbidden City, the Fragrant Hills, the Great Wall and Ming Tombs, temples, tea rooms. Every few weeks there would be some unexpected break from work. The most unusual came when our colleague Shang Rongguang asked whether we wanted to be in a movie. A production then under way in Beijing needed some foreigners as extras, so off we went one afternoon to a large auditorium that was doubling for the ballroom of a cruise ship. In one scene we stood off to one side holding drinks and in another were part of a crowd of dancers. Our brief movie careers-we never knew whether we survived the editing process.
In late August of 1990, we prepared to depart. It had not been an easy year, coping with an unfamiliar country, culture and language at a time when China was going through a difficult period, when the prosperity of today was still a distant prospect. We had, though, made friendships that have lasted until today and developed a lasting interest in China. Donna went on to study martial arts and Fred studied Chinese at the University of Toronto. We returned to Beijing Review in 2000 for another year, and found a very different and more modern operation in a city that had been transformed-and was changing before our eyes.
But 1989-90 remains more vivid in our memory. It was then that we developed a sense of solidarity with our Chinese friends that has not faded with the passing years.
(This article appears on centerfold page 7, VOL.51, NO.10 MAR.6, 2008)