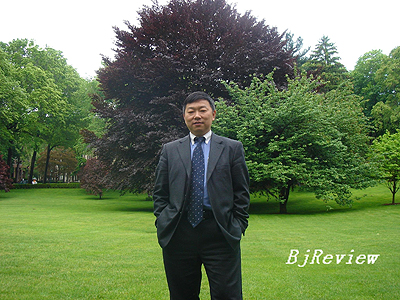 "So tell me who is the most senior of a director, director general, vice minister and minister?" This is the challenging question once posed to me by my former boss, Mike Furst, then Managing Director of the American Chamber of Commerce in China. As the chief executive of the largest foreign chamber of commerce in China, Furst had to deal with a lot of Chinese government officials in his work, and getting the protocols right was always a challenge. In the United States, for example, the head of the most powerful intelligence agency in the world, the CIA, is simply called Director. In this context the title director seems to be even more senior ranking than director general.
This is just one example of the daily challenges foreigners face in China. The complexity and yet at the same time the fascination of China to foreigners is often beyond the comprehension of Chinese people. As China rises steadily on the world stage and becomes increasingly integrated into the world community, interest in China will only increase. Right now, China is hot and definitely the place to be, whatever your field of expertise. Needless to say, demand for information about China will also increase exponentially.
In addition to the need for information, China also faces a much larger challenge and that is getting its voice heard on international affairs. In both cases, local media-including Beijing Review-has a big role to play.
Probably for the same reason, multinational companies such as IBM hire professional communicators such as myself to manage their government-related affairs and get their opinions heard. In going about doing my job, I find that despite the voluminous flow of information from the Internet and the incessant inflow of visitors to China, there are still unmet needs that a magazine like Beijing Review can satisfy.
One time, when I was still working at the American Chamber of Commerce, a member company wanted to find out the full text of the government's work report delivered at the annual National People's Congress. Without hesitation, I directed them to Beijing Review where they found the needed information.
At another time, when I was working at United Technologies Corp. (UTC), a Fortune 500 company providing aerospace and building systems products and services, I got a request from a subsidiary company for the English translation of a piece of legislation issued by the Ministry of Construction on the qualifications of building equipment installers. I found it in a copy of Beijing Review as a bilingual insert, just what they needed.
China's governance structure-and related policy-making and legislative processes-presents a unique challenge to foreign companies doing business in China, because China is in an unprecedented transition from a planned to a market economy and from a rule-of-man to a rule-of-law society. Understanding the structure and function of the myriad of government offices and the protocols associated with the system is essential for businesses to succeed in China. Again, I believe Beijing Review is uniquely positioned to help foreign companies.
How laws are made in China remains unclear and difficult to understand for most foreign companies. Beijing Review should maintain its reporting tradition of covering this process and its background, by interviewing legislators and legal scholars and explaining the legislative process in China in plain language. This would be of great help to not just businesses, but the broader international public as well.
Just as important, when major political events take place (i.e. the 17th Party Congress in 2007), it is great that Beijing Review provided multi-faceted comments and views interpreting the outcomes of the congress and their impact on the country, including the impact on foreign companies operating in China.
There is a need for a publication like Beijing Review in the business community. Similarly, I believe the magazine can meet the needs of other communities as well-the key is identifying those needs and finding ways to fill them.
(This article appears on centerfold page 8, VOL.51, NO.10 MAR.6, 2008)