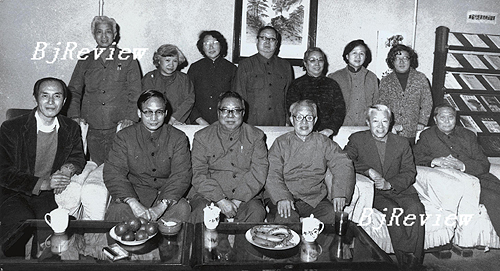 Fifty years ago this week, a brand new magazine rolled off the press in Beijing. Called Peking Review (now Beijing Review), it was New China's first English-language weekly publication. By airmailing to subscribers the world over, it brought them the latest, authoritative news and views about the People's Republic of China, which by that time had become a significant player in the international arena. The Korean War was over with the U.S. troops stalled at the 38th Parallel. Both at the Geneva Conference in 1954 and the Bandung Afro-Asian Conference in 1955, liberated China expressed its independent and principled stand on international affairs. The Five Principles of Peaceful Co-Existence among nations had been enunciated. For the first time in modern history, what happened in China and how it handled its international affairs counted. The magazine's appearance, bringing the much-needed information about China, was therefore most timely and welcomed by readers abroad. Distribution of Beijing Review climbed rapidly in many parts of the world. Not only did journalists frequently quote its reports and China-watchers study it with great interest, but its regular subscribers included the offices of presidents and prime ministers in many countries.
The magazine's success was not without reason. Its initiator was no less a figure than late Premier Zhou Enlai. It had the backing of other Party and government leaders. Yet the day-to-day editorial responsibility of the magazine was left to a rather small editorial staff led by a veteran journalist who had worked in Shanghai and could write excellent articles in English. The backbone of its staff came from the fortnightly journal People's China. Though only a few were trained abroad in Western journalism, the majority were young and dedicated journalists, ready to learn and burn the mid-night oil when required. A few distinguished journalists from the West contributed their expertise and experience. Within two months or so, several trial editions were printed. Of course, for such a high-standard journal, the enthusiastic support of the public was essential. Well-known figures, writers and scholars never failed to lend a helping hand when called upon. The famous scholar and calligrapher Guo Moruo inscribed the Chinese masthead which is still used today, only in smaller size.
To save airmail costs, a special kind of thin but durable paper was invented and produced by a factory in Jinan, Shandong Province. It contained cotton which was in short supply on the market. For decades, it bore the brand name Beijing Review paper. When the magazine added several language editions in 1963 and a rotary press was needed for the job, an old one made in Japan was found in Northeast China where it had lain idle for more than a decade. It was promptly shipped to Beijing and put to use.
There was no end of ingenuity to overcome obstacles lying in the way of the magazine's publication and distribution. Don't forget those were the years when China was suffering from a blockade and embargo imposed by the United States. But the most difficult time for Beijing Review was during the disastrous years of the "cultural revolution" (1966-76). However, while the quality of the magazine suffered greatly, not a single issue came out late thanks to the dedication of the staff.
The country's second surge came in 1978 when the Communist Party of China (CPC) adopted the reform and opening-up policy. Beijing Review, which had all along shared the country's weal and woe, experienced a rapid revival. Under the leadership of a veteran female editor in chief, the staff healed the wounds and threw themselves wholeheartedly into renewing the magazine to meet the changing needs of the times. Since then, both at home and abroad, entirely different situations have emerged. China Daily was launched and CCTV began its English language programs. China Radio International improved and expanded its international and domestic broadcasts. The news website China.org.cn appeared with eight foreign language editions. Nearly all the government offices now have spokespersons. While interest in China grows exponentially, the market has become satiated with sources of information. For Beijing Review all these have necessitated the provision of something uniquely its own. For that, it needs to train and pool together high-caliber and well-rounded staff.
When considered along with China's long history, 50 years are a mere drop in the ocean. Yet the years that went by since Beijing Review came into being marked a new stage in China's development. This is especially true of the past 30 years. Thanks to reform and opening up. China has changed beyond recognition, economically,politically, socially and culturally. Development, or rather innovation, constitutes the order of the day.
This is not to say everything is already perfect. Far from it. Along with progress there are also problems and challenges which require constant rethinking and concerted efforts. All of these have been and are still being covered week by week in Beijing Review. The magazine can be said to be a mirror, a timely briefing of what is happening as well as a factual account of what has happened during the past half century. Back issues are a textbook of modern Chinese history, providing precious material for historical research.
When it was first set up, the magazine aimed at providing information about a changing China in order to promote international understanding and friendship among nations and peoples. It was then necessary because there was a lack of information about China. Nowadays, with the information explosion, the pendulum has swung to the other end, so that there is now an information overkill, often leaving readers baffled with contradictory conclusions. And isn't it amazing that pundits who used to predict China's "impending collapse" now turn around and wax eloquent about the "China threat." Instead of balanced and objective reporting, we now witness highly sensational charges against China in some quarters, often based on one-sided reports or partial information instead of objective analysis of relevant facts. With the country in fast-track development mode, having to face numerous old and new problems as a result, it is all the more important that Beijing Review devotes still greater energy to providing both topical news and background information on major trends.
In short, what is needed for a magazine like Beijing Review is timely reporting plus in-depth analysis. Being timely is necessary, but it alone is far from sufficient. If the birth of a magazine is not easy, its growth and elevation are even more difficult. However, with the staff's continued dedication, Beijing Review will grow and prosper. Of that we are certain.
(This article appears on centerfold page 2, VOL.51, NO.10 MAR.6, 2008)