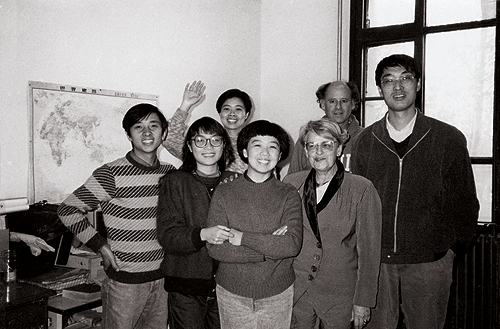 The North American Edition team and visiting German guest in 1991
I have every reason to celebrate the 50th anniversary of Beijing Review, a faithful source of news, views and references on China for readers outside China. From a new staff reporter starting in 1988 at its 30th anniversary to one of its "target readers" today, I always feel that Beijing Review is an important part of my life, and it paved the way to where I am today, both career wise and personally.
Beijing Review, as a professional magazine, helped me lay a solid foundation for my future academic and professional advancement. I joined Beijing Review in the summer of 1988 when the magazine saw one of its most exciting times. I worked for the North American Edition at that time, reporting on everything related to the United States and Canada, be it a conference, high-level official visit, cultural exchange, or a joint venture. Both my oral and written English improved dramatically, thanks to the daily work of interviews and discussions of articles with our American and Canadian editors. Every time I got back an edited article, I would compare the edits, make notes, digest, and try to use the appropriate words next time. I was quite encouraged by the progress. Unfortunately the good time was interrupted by the Tiananmen event in 1989. Despite the frustration, the magazine continued its mission faithfully. As staff, we continued to do what we were supposed to do – writing for our readers. Nine years passed, and the writing experience paved the way to my future – a public relations practitioner at a German company in China, a tutor at the Writing Center of the English Department of a U.S. university while studying for my master's degree in communications (my advanced English writing course was exempt, thanks to my nine-year writing experience), various communications positions in U.S. and Canada, and now a project coordinator with writing as an important job responsibility. Today I am still using Beijing Review's copy-editing marks I was first taught in the printing house where the page proofs came out.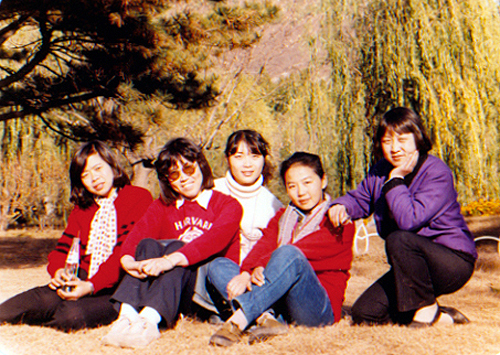 Female editors of the North American Edition relax in Fragrant Hills Park in 1989
Beijing Review, as an organization, taught me some important virtues of life. One such virtue is the sense of responsibility. Since it came into being 50 years ago, the magazine "has experienced the ups and downs of the nation's history", and has never missed a single issue "no matter how harsh sometimes the social and political climate was in influencing its editorial and production process," as it was put by Jiang Wandi, Deputy Editor in Chief. Another virtue is optimism. Even during the most down days, our supervisors, while understanding the staff's cynicism, were trying to make the best out of a less than desirable situation. We did our job, we humored ourselves, and we spent sometimes depressing days reaching for fun. I came to realize that I could change my attitude to deal with a situation even if I could not change the situation. A sense of simple abundance is another virtue I learnt at that time. Be grateful for whatever life could offer under the given circumstances. China was still running a planned economy in the 1980s, although it had started to open some areas to private ownership. We still had only a limited amount of food and other basic daily necessities per person per month, and we relied on the organization for the availability of housing. Nevertheless, we managed our life within our means and tried to enjoy it. We felt thrilled with whatever extra the organization could get for us for holidays – meat, eggs, fish, and fruits. Today this sense of simple abundance seems even more important when we are offered unlimited choices of materials and easy affordability.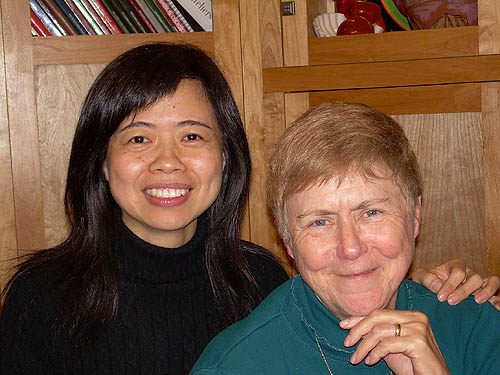 Yang Yuli, who once worked as an editor at the North American Edition of Beijing Review, and Judie Marks, who worked in Beijing Review as a foreign expert, in 1988
Beijing Review, as a work place, provided me with a venue where I met the people who became my lifelong close friends. They included Jiang Wandi (who is now Deputy Editor in Chief of Beijing Review), Chen Qiuping (who is now working as assistant to editor in chief of China Internet Information Center), Shang Rongguang (my boss at North American Edition, who is now retired), our American and Canadian editors Judie Marks (who is now retired and a freelancer in California, and is as close to me as my family), Fred Edwards and Donna Maloney (who are now editors at the Toronto Star), and Simmie Magid (who is now a lawyer in Hong Kong). Our shared background of working for Beijing Review gives us a special bond. For this, I forever feel grateful to the organization.
Our past is part of our present and future. It paved the way to where we stand now. When I update my résumé, I see a solid foundation that my work experience at Beijing Review has laid. I worked the longest years there, and it provided me with a very good reference for my subsequent jobs. On top of that, the magazine continues to serve as one of my primary sources of information on China. My current job requires frequent update on China's legal reform, and Beijing Review is an ideal reference on that, especially the full-text translation of some important documents.
(The author is a project coordinator at the International Center for Criminal Law Reform and Criminal Justice Policy in Vancouver, Canada. She worked at Beijing Review as a staff reporter in 1988-1997)