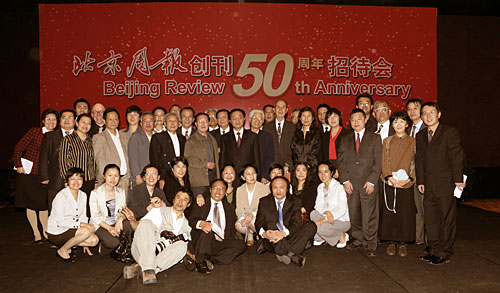 On the occasion of the 50th anniversary of Beijing Review, China's foremost English news weekly magazine, Liu Yunshan, member of the Political Bureau of CPC Central Committee, Secretariat of the CPC Central Committee and Minister of the Publicity Department of the Central Committee of the Communist Party of China, sent a congratulatory letter to the magazine.
In the letter, Liu pointed out that, in the past five decades, Beijing Review has served as China's most authentic English-language news magazine, following closely on the development trends of the New China, introducing its principles and policies to the world in a timely fashion, reporting on the achievements of the Chinese people in various fields and explaining the Chinese Government's stance on major international issues. Beijing Review has become an important channel for the world to understand and know about China. It is warmly received by readers from different nations, and has made positive contributions to the mutual understanding and friendship of the Chinese people and peoples around the world.
Liu said the rapid economic development and rising international status of China have been attracting more attention from different countries in the world, which in turn demands more information about China. As an important medium responsible for reporting China to the world, Beijing Review shoulders the primary responsibility for promoting communication and cooperation between China and foreign countries. He hoped that Beijing Review continues to improve its reporting style, expand its news coverage, and further enhance its authenticity and influence. It is also his hope that Beijing Review could make greater contributions to enriching the international community's understanding of China, and boosting the healthy and harmonious development of Sino-foreign relations.