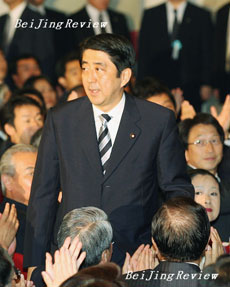 Shinzo Abe, 52, was born into a distinguished political family. His father, Shintaro Abe, was former secretary general of the LDP and former foreign minister, and his grandfather was former Prime Minister Nobusuke Kishi. Following graduation from the Department of Political Science of the Faculty of Law at Seikei University in 1977, Abe studied politics at the University of Southern California. In 1979, he returned to Japan and began to work at Kobe Steel Ltd., where he remained for about three years. Abe entered politics as his father's secretary in 1982. In 1993, he won a seat in the House of Representatives by running in a constituency in Yamaguchi Prefecture. In 2000, he was appointed deputy chief cabinet secretary in the second cabinet of Prime Minister Yoshiro Mori. He was elected LDP secretary general in 2003 and became a cabinet member for the first time in the post of chief cabinet secretary in Junichiro Koizumi's third cabinet in 2005.
The following factors helped Abe win the LDP presidential election: First, he is a member of the Hashimoto Faction, the most powerful faction of the LDP, and is strongly backed by Koizumi. Second, his hawkish political thinking conforms to the right-wing inclination of Japan's social trend of thought. Third, his tough and uncompromising attitude on the issue of abductions of Japanese nationals by North Korea and other diplomatic problems caters to the sense of crisis of some Japanese people. Fourth, family influence has helped him gain adequate election funds. Fifth, the LDP's voting system was favorable to Abe.
As a political figure born after World War II, Abe shows a decisive and tough working style with a strong hawkish flavor, gaining him high prestige in the nation, especially among young people. Looking young and handsome, he is also good at taking advantage of his "star" quality, which helped him attract many voters. Abe is also a good writer, and his new book, Toward a Beautiful Nation, became a bestseller in Japan immediately after it was published.