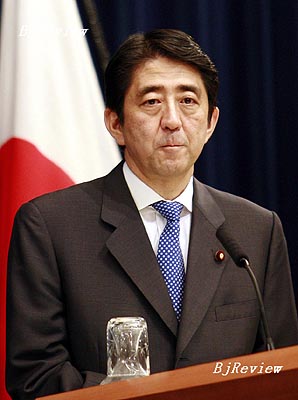 Japanese Prime Minister Shinzo Abe's resignation was abrupt, but did not come as a complete surprise to Chinese foreign affairs experts.
Abe announced he was stepping down at a press conference in Tokyo on September 12 just after he delivered a policy speech at the parliament and two days after he attended the Asia-Pacific Economic Cooperation summit in Sydney.
Shen Shishun, Director of the Department for Asia-Pacific Security and Cooperation at the China Institute of International Studies (CIIS), said that the day before Abe resigned, he participated in a seminar where scholars discussed whether Abe could remain in his post and predicted he wouldn't last much longer. "It did not occur to me that our prediction would come true just one day later." Shen said.
Abe had long been under pressure from the opposition and may have considered an early departure, because he was unable to effectively control his cabinet, Shen said.
Abe quit his post as prime minister and head of the ruling Liberal Democratic Party (LDP) less than a month after he reshuffled his cabinet following a devastating defeat in parliamentary elections in late July.
Experts said that Abe's resignation resulted from domestic issues and would not affect Sino-Japanese relations, which he had put back on the right track.
As prime minister, Abe's most remarkable achievement was in diplomatic relations, Shen said. While giving sole priority to Japan's traditional alliance with the United States, Abe's predecessor Junichiro Koizumi strained the country's relations with China and South Korea, he said. Abe, however, adjusted this rigid policy and strengthened Japan's ties with its Asian neighbors - efforts that Shen believes were conducive to improving the country's international image.
Shen also said it was difficult to evaluate Abe's domestic policies, because the prime minister did not make a deep impression on the general public, with few notable achievements. His administrative capability was questioned, because he failed to make any progress in widely scrutinized issues, and scandals frequently plagued his cabinet ministers over the past year. Abe came under fire for problems with the national pension record-keeping system, which jeopardized benefits payments. He also suffered a major defeat in the upper house election in July, in which the LDP lost its decades-long dominance in the chamber. His support rate dropped below 30 percent after the election and had remained low.
On August 27, Abe reshuffled his cabinet and replaced the members with veteran politicians to regain public trust. However, in less than a week, the new Agriculture, Forestry and Fisheries Minister Takehiko Endo resigned over a scandal involving a farmers' group that he heads. Minister of Internal Affairs and Communications Hiroya Masuda, who is in charge of overseeing funding reports for politicians and political parties, admitted an error in his own political funding report on September 8.
Gerald L. Curtis, a renowned expert on Japan studies at Columbia University and concurrently visiting professor at Waseda University in Japan, said that Abe made so many mistakes that he is somewhat "psychologically lost."
"Maybe Abe's biggest failure was his inability to buy time for the economic reform process to kind of spill out further across the country," Curtis said. "You have to make people be optimistic that things will get better. … That's not the situation in Japan today."
Gao Hong, a research fellow at the Institute of Japanese Studies, Chinese Academy of Social Sciences, pointed out that Abe's public support dived as the scandals were exposed. Given the LDP Cabinet's low approval rating, the Democratic Party of Japan (DPJ), the LDP's major rival, felt free to attack the incumbent prime minister, he said, citing this as an important underlying reason for Abe's resignation.
Experts also believe that Japan's contentious special antiterrorism law was the direct cause of Abe's departure. Lawmakers adopted the law in October 2001 following the terrorist attacks in the United States. The law authorizes the dispatch of Japanese Maritime Self-Defense Force vessels to provide refueling support for antiterrorism operations. It has been extended three times in 2003, 2005 and 2006 and will expire on November 1.