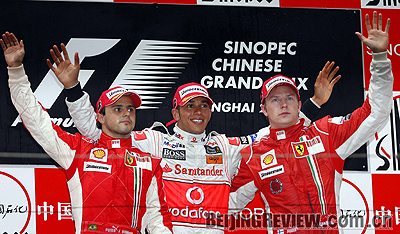 WINNER'S CIRCLE: Winners of the Formula One Chinese Grand Prix wave to the audience at the Shanghai International Circuit on October 19, 2008
Formula One (F1), the world's most expensive sport, faces major changes next season as F1 teams and the sport's sanctioning body, the International Automobile Federation (FIA), agreed in Monte Carlo on December 12 to enact cost-cutting measures.
To ensure its long-term survival, FIA President Max Mosley advocated the reduction of engine costs, banning in-season testing and sharing data about tires and fuel, which may cut team expenses up to 30 percent.
Although the FIA had already started planning cost reductions, the catalyst for their implementation was Honda Motor Co.'s decision to pull out of the sport early this month.
On December 5, Honda withdrew from F1, citing the world economic crisis and slumping sales. The Japanese auto giant has already reduced its earnings forecast, fired assembly line workers and cut production.
"We had no choice in the current financial conditions," Honda CEO Takeo Fukui said at a news conference. He said it was unlikely Honda would soon return to F1 either as a team or engine supplier.
Worldwide slowdown
Honda is not the first team to withdraw from the sport, as Ford Motor Co. and Spyker Cars N.V. pulled out in 2004 and 2007, respectively. In May 2008, Japan's Super Aguri team also dropped out. Unless the Honda team finds a buyer, F1 will have only nine teams when the season opens in Melbourne on March 29, 2009, the fewest in 11 years.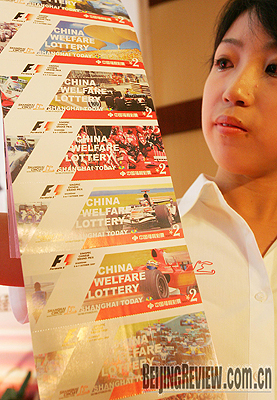 F1 ECONOMY: The Shanghai International Circuit and the Shanghai Welfare Lottery Center jointly issue a set of F1-themed lottery tickets with a total worth of 1 million yuan ($147,000) in Shanghai on August 7, 2007 

The decision for these teams to pull out is economically driven. Then how much does it cost to run an F1 team in the pinnacle of motorsport?