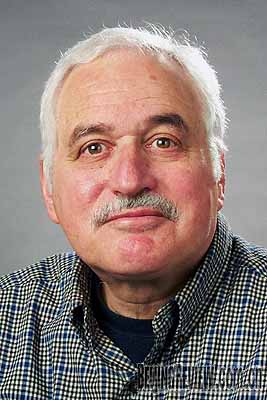 "Africa matters to China" --Edward Friedman 
China's interest in Africa has heightened in recent years. It is offering debt relief, opening its burgeoning markets to African goods and offering friendly nations interest-free loans. It is training medical personnel. It is teaching the Chinese language to African students. It is providing Chinese businesses with information and technical support to lower their cost of doing business in Africa. China is building a basis for deep business cooperation with Africa precisely because it serves major Chinese interests. But just as the Chinese Government claims, Africa can benefit economically, too.
Whereas satisfied European and American investors saw few profit-making opportunities in Africa, entrepreneurial Chinese have found plenty of possibilities. Chinese firms need to be taken more seriously. Since China has entered the World Trade Organization and amassed unprecedented foreign exchange reserves, Beijing has promoted a "going global" policy of helping Chinese firms become globally competitive. Experts say Africa is a testing ground for this policy. Africa matters to China.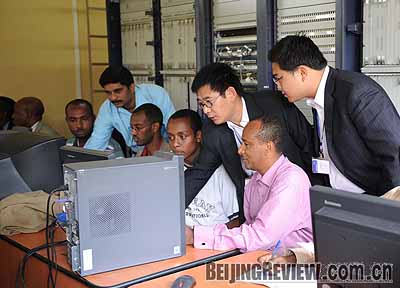 HI-TECH ASSISTANCE: Engineers from ZTE Corp., a Chinese telecom company, instruct Ethiopian technicians in telecom technology in Addis Ababa on November 14, 2008 (CHEN SHUGEN) 

China's way of doing business in Africa does not mean that poor Africans cannot be lifted out of poverty by Chinese economic policies. Africans can march ahead by joining in. If China promotes infrastructure development so that Africa is no longer a place where telecommunications services are erratic, and if Africans become socialized to Chinese best practices, then Africa will greatly benefit from Asian ties.

Flying geese

It was the Japanese who promoted a "flying geese" pattern where the lead nation in a sector, whether the nation is Japan, China or India, and whether the sector is electronic goods, apparel or software, rapidly moves up in technology and value-added production. It therefore is regularly superannuating a prior generation of goods, and it is continuously producing industrial sectors and market shares that it can subsequently move to countries with lower price labor. Other geese will then fly behind the lead goose, which gradually pulls them ahead. African governments have to treat the 100,000-plus African traders in the Chinese mainland and Hong Kong and African students from China as a resource to plug into the Chinese engine.

Economists who, in contrast, see China hurting Africans because China is supposedly a unique juggernaut that is monopolizing low-wage light industry will be proven wrong. The laws of economics are not negated by China's rise. Higher wages and costs and a higher valued currency in China will force much lower-end production out of China. Indeed, this is already beginning to happen. The trend is inexorable. The flying geese of Japan's Asia can become the flying geese of China's Africa, part of a continent taking China as a powerful economic pole and economic motor, the extension of Asian dynamism to Africa. China can transform Africa.

The analysts who see Chinese government aid and state enterprise investment lost down a rat hole of African regime corruption do not see that growth can accompany corruption. They miss the powerful dynamism of Chinese society. Tens of thousands of young Chinese have flocked to Africa to use ties to Chinese businesses back home in order to get a business started from scratch in Africa. Millions more will be coming, as hundreds of millions in China continue to flee the farming sector to join a frenzy of entrepreneurialism. Chinese growth is propelled forward by millions of Chinese out to make a buck in business, people who engage in cutthroat competition, which creates a virtually unbeatable China price. Young Chinese looking for adventure and opportunity are racing to Africa. They will give their energies and talents working for a pittance to turn a profit. They will make use of their connections to Chinese networks of entrepreneurs who are losing out at home because of higher Chinese prices and are therefore open to moving enterprises to lower-wage Africa.

This flying geese networking with Africa under China's aegis, made possible by recent revolutions in communication and transportation that have made the world smaller and decreased transaction costs, has the potential to ignite rapid growth in Africa tomorrow as it did under Japan's aegis in Southeast Asia yesterday. China's strategic need for African energy guarantees that the Chinese commitment to Africa will persist. The focus of most analysts on the Chinese state ignores how post-Mao China is a very different world from that of the Mao-era command economy. In the reform era, the work of non-governmental private sector actors creates wealth, jobs, brands and enterprises. One should pay more attention to the rise of Chinese firms and the frenzied energies of would-be Chinese entrepreneurs.